Zendesk has been actively working with our neighbors to build stronger communities. Through volunteering, a hackathon, and participating in San Francisco's Pride parade we have been strengthening our relationships and creating new partnerships.
May day of service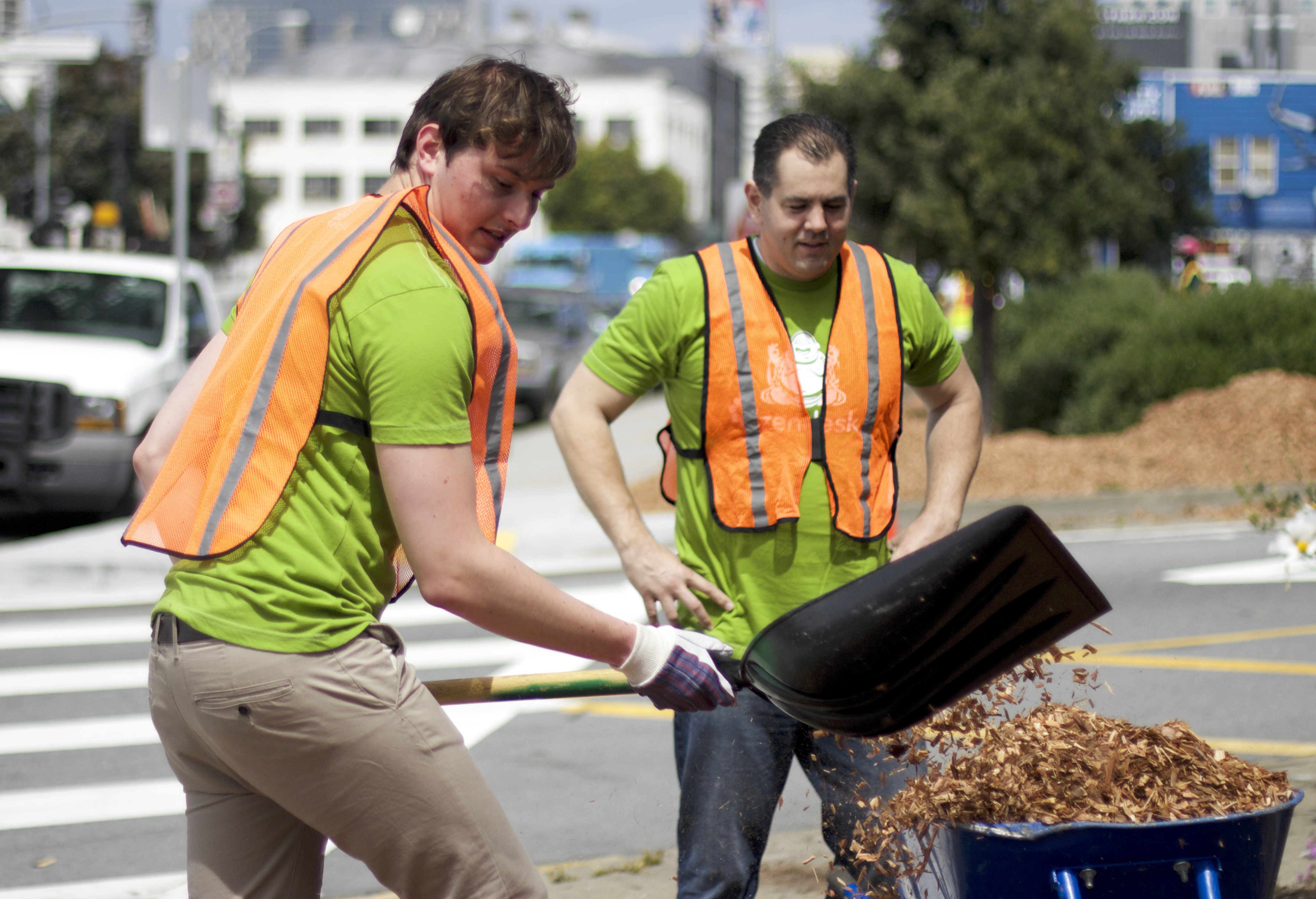 In May we had our first coordinated global volunteer effort. In San Francisco, over 170 Zendesk employees supported the Department of Public Works in cleaning and greening the neighborhood. As a team, we picked up 80 bags of trash, swept and de-littered 40 city blocks, and removed approximately 35 hypodermic needles from the street. We also helped beautify and green a freeway overpass and spruced up the courtyard of a family shelter.
The office in Madison, Wisconsin arranged a toiletries drive for both the local Salvation Army and the YWCA. In London, our employees pooled together the money they'd normally spend on a week's worth of lunch to raise £100 for the Trussel Trust. They simultaneously held a food drive that resulted in seven boxes of food being sent to the Camden branch of the Trussel Trust.
Meanwhile, our Dublin office pulled together approximately 30 employees to help clean up the famous Grand Canal, where they pulled out some interesting items, including a car tire, clock, Kermit the Frog, and a shoe.
Charity hackathon
Longtime supporters of Children of St. Mary's Intensive Care unit (COSMIC), Zendesk's London office organized its first-ever hackathon to help build a feedback system for COSMIC's young patients.
The COSMIC unit at St. Mary's Hospital helps patients and their families treat approximately five hundred critically ill children each year. Although approximately 20 percent are from the local area, the majority have been rushed to the hospital from Greater London and the South East. Without the specialist care they receive at St Mary's they would likely die or be left with a permanent disability.
One thing the team at COSMIC has struggled with is soliciting feedback from its patients and families. In order to give the best care possible, understanding how a patient's stay went is critical. Existing solutions, however, were extremely expensive, so we turned to the London developer community to help us build something engaging and useful for COSMIC that would appeal to its patients. Through this hackathon three strong and playful games were created which Zendesk will continue to work on and support.
Zendesk loves Pride
And, this past Sunday, Zendesk and its San Francisco community partners walked and danced in the San Francisco Pride Parade. With more than 150 of us dancing out on Market Street we really demonstrated our pride in San Francisco and the Mid-Market neighborhood where our offices are headquartered.
Looking ahead, we are preparing for our back-to-school efforts as we support our neighborhood schools and students.