Find out what's new with Zendesk
Join our product marketing team for an in-depth walk-through of all product updates in the last quarter. In this 60-minute webinar, we'll take you through the new features in Support, Help Center, Chat, Talk, and Message
Turning customer reviews into real revenue
Customer service is too often an afterthought and many times customer requests go unanswered. Yet with the proliferation of connected devices, customer expectations are at an all time high – they expect to get help quickly and on every channel
How businesses can improve the customer experience with machine learning
Every interaction offers a business the chance to leave a customer feeling good, helping to build a relationship for the longer term. Yet some customer interactions have a mercurial quality and end up in a different place than they began
The key to providing great multichannel support
Your customers have high expectations. They want to receive help quickly and—this is crucial—they expect a consistent experience across each communication channel, from email and phone to
Sneak preview of new research: the contact center as profit center
If you work in customer service, you "get it"—of course what you do benefits your business and your bottom line. But ask around outside your own team, and you'll find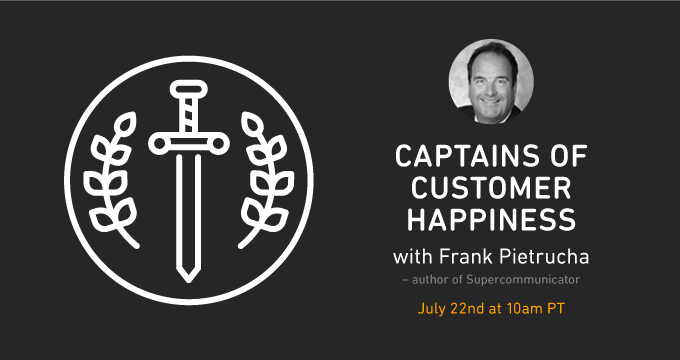 Explaining the Complicated So Anyone Can Understand: Q&A with Frank Pietrucha
Frank Pietrucha will be joining Zendesk for a live webinar on July 22nd. To prepare for the event, we talked with Frank about how to explain complicated concepts
3 Keys to Building a Kindness Revolution: Q&A with Ed Horrell
Ed Horrell will be joining Zendesk for a live webinar on April 22nd. We talked with Ed about what he's learned about the customer experience from some of the world's most-loved brands.
Raising Your Customer Service from Ordinary to Extraordinary: Q&A with Steve Curtin
Steve Curtin will be joining Zendesk for a free webinar on Tuesday, January 28. We talked with Steve about what really moves the needle when it comes to providing exceptional customer service
Service standards don't serve anyone
Many companies have customer service standards. The goal is to make service more consistent. The result is often the opposite.
7 tools for amazing every customer, every time
Shep Hyken, customer service expert, speaker, author, and one our most popular Zen Masters, was recently named the top social customer service pro on Twitter
Zen Master webinar series: the proven Path to delighting your customers
The customer service game has changed and finding the right approach to building a strong service culture for your company can be difficult
Announcing the Zen Masters of Customer Service Webinar Series
A big part of our mission here at Zendesk is to help our customers provide the most exceptional customer service possible. Everyone knows that one way we accomplish this mission is through the products that we build and support. At the same time, we also believe that education is a key component of helping companies […]
Webinar: Learn About Our Customer Satisfaction Ratings Feature
All webinars have been moved here. Original air date: May 4, 2011 Every business measures its success by tracking a variety of metrics, from opportunities and sales to revenue and expenses. But there is one metric that holds the key to the future of every business – customer satisfaction. Now, with Zendesk, your company can […]
Webinar: Get the Most out of CSS in Zendesk
All webinars have been moved here. Original air date: April 28, 2011 What is CSS? Join us as Jake Holman, our product manager, guides you through customization and branding of your Zendesk with CSS. Learn how to change the colors of the tabs, change the header, and create a forum page that has the look […]
Webinar: Zendesk for Seesmic Desktop