Tip of the week: build on customers lists to deliver better customer service
Last updated November 17, 2014
For new customers, user management is a big topic in our training sessions. They often ask, "Once I get my customers into my Zendesk, how can I tap into the data about them, their issues and company, to get closer to and take care of them better? Which of Zendesk's tools and integrations will help me most?"
That's where customer lists come in.
In this tip of the week, we'll focus on the power behind customer lists—showing you how to create them, plus two ways you can use them for more proactive customer service and communication.
What are customer lists?
Customer lists define a segment of your users in Zendesk based on a set of criteria that you specify. They're similar to Views in that they enable you to create a list based on attributes, tags, and custom user fields. But instead of pulling in tickets, customer lists pull up users. For example, you could create a list for all customers tagged "VIP," for those who speak French, or for all customers added to your system since last month. And once built, they enable you to communicate with and serve your customers more efficiently and proactively.
How do I create one?
As you can see, creating a customer list is simple:


Use the steps here to create a customer list.
I've created my lists, but now what?
Once you've created your customer lists, you can use them to reach out to your customers and initiate service on their behalf in several different ways. Here are two examples:
1. Measure customer loyalty, get feedback on your customer service, and send targeted emails to survey respondents.
With our Net Promoter Score® feature (NPS), you can survey your customers to measure their loyalty. Then, create a customer list that targets your customers based on their response and communicate with them directly so that they can give feedback and feel heard.
Create an email campaign (with a MailChimp integration) to contact your promoters, passives or detractors. Send them gifts or ask how you can improve, depending on which group you target.
2. Proactively reach out to customers around renewals, planned service changes, or their purchase history.
Built on customer lists, the Proactive Tickets app can help. With it, you can extend your service beyond support tickets and create tickets on behalf of your customers, or segments of your customer base. For instance, if you create a list of customers whose subscriptions expire in December, you can create a ticket with instructions for how to renew their account and send it to those customers.
Once you install the app, all you'll need to do is follow these steps, shown below:
Select which customers (and lists) to target. For example, you could select all customers tagged "expire_December."
Name your campaign. E.g., "December expiration notice"
Create your proactive ticket, which includes the notice and a link for easy renewal.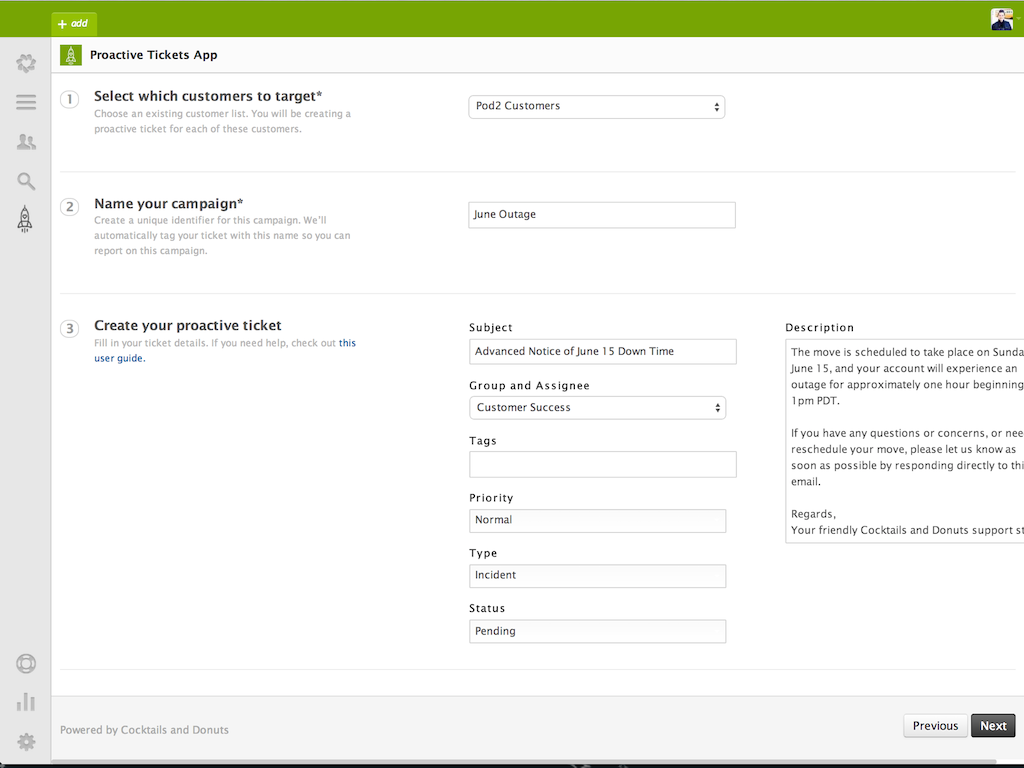 Note: The Proactive Tickets app is a Zendesk Labs app and is not officially supported.
Net Promoter and NPS are registered U.S. trademarks, and Net Promoter Score and Net Promoter System are service marks, of Bain & Company, Inc., Satmetrix Systems, Inc. and Fred Reichheld.