Weldbend
With Zendesk Support, Weldbend saw a 30% cost savings
Ticket Volume by Month

5,000+

Avg. CSAT

99.8%

Avg. FRT

20 Minutes

Reduction in Costs

30%

Products Used
For the past 60 years, Weldbend has hewed to a simple creed: treat employees and customers like family. So when its 200 employees—many of whom have been with Weldbend 15 years or longer—start work each day at the company's sprawling 36-acre facility near Chicago, they focus on keeping customers satisfied.
As the top domestic producer of carbon-steel fittings and flanges used in mechanical systems and oil and gas pipelines, the family-owned and operated Weldbend constantly searches for ways to improve service—from cutting lead times on products to accelerating response times to customer inquiries. That has translated into an average CSAT score of 99 percent—a score that Kevin Coulas, vice president of production for Weldbend, said is no accident.
"Our main competitive advantages are our Chicago location, our substantial inventory, and our ability to produce and manufacture quality products" said Coulas, who manages operations and Weldbend's efforts to fine-tune customer service. "If someone's not happy, we don't want to give them a reason to go anywhere else."
To maintain that advantage, Weldbend realized it needed to provide new tools for its sales team, which was managing 5,000 tickets a month from a shared email inbox. This was no simple job as Weldbend sells to distributors, rather than direct to consumers, and so manages large orders, often involving custom fittings, that require back and forth email communication over many months.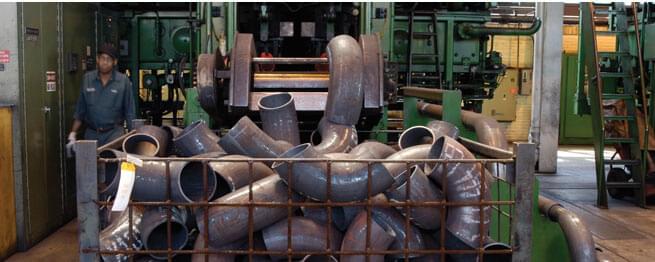 "The problem was communication tended to be one way," Coulas said. "Seeing who would reply or who was processing an order…it was very much helter skelter. We want to get every order right the first time, and to make sure that everyone has sufficient time to process an order, review it, and ensure our customer is taken care of on the first go-around."
That led to a search for a system that would be easy to use and provide transparency into the end-to-end process. Weldbend's search began with Zendesk and eventually ended there.
"We try to keep things as simple here as possible," Coulas said. "We liked the way Zendesk works. We were evaluating Desk.com and a few other solutions and were saying, 'Well, it doesn't do this like Zendesk.' By far, Zendesk was the easiest to use and easiest to understand."
By May 2015, Weldbend had Zendesk Support up and running, creating tickets for all orders that come in, whether by email, fax, or EDI (electronic data interchange). Now each order is managed from receipt through shipment via Zendesk Support, where the complete order history is visible to both Weldbend and the distributor.
"Once we implemented it, people really started to see the benefit of how we were trying to manage our communication with our customers," Coulas said. "Now one order had one ticket. If a customer wanted to make a change when they replied to the email, it was documented in the ticket. And when we sent something out to the customer, we had a full record of that being sent out as well."
As a result, Weldbend cut its first response time to inquiries by a third, from 30 to 20 minutes on average, a significant improvement customers have noticed. Zendesk Support also helped the company shift tracking of orders from internal numbers to the customers' PO numbers, removing another pain point for Weldbend's customers.
Further, not having to search email threads or paper trails has enabled Weldbend to double-check orders for accuracy, leading to fewer errors and a 30 percent reduction in costs. Weldbend's full-time salespeople use the tickets to manage orders through to completion, as well as to provide packing lists, material test reports, and other crucial information.
In addition to leveraging Zendesk Support to manage orders, Weldbend took advantage of the agility of Zendesk's API to build a tool designed to improve its EDI system, which it uses to receive and communicate order information from other businesses. Now when an EDI order comes in, the system automatically generates a ticket that is assigned to a salesperson.
"The API has been great for us," Coulas said. "With it, we developed our internal tool to automatically upload documents for the order. We use a third-party app, Myndbend, to do the credit approvals in the tickets. Now our accounts receivable employees are actually going in and putting their seal of approval on the order that it's okay to ship."
Zendesk Support has made Weldbend's complex order process simpler and more transparent and the team is working with Zendesk's customer success team, as a next step, toward building a help center. "Everyone we've dealt with at Zendesk has been extremely helpful," Coulas said. In the meantime, the team especially loves being able to survey customers for feedback, and not only because the ratings are great. On the rare occasion a customer isn't satisfied, a Coulas family member will reach out to learn what went wrong so that they can continue to improve their service. Most days, though, Weldbend achieves 100 percent satisfaction ratings, making the company a leader in carbon steel fittings, and in great customer service.
"We felt there was really only one option that would help Weldbend achieve success, and that was Zendesk."