Geckoboard makes it easy to share live Zendesk metrics with your team (and beyond), so everyone can see at a glance how things are going throughout the day, track progress towards goals, and celebrate their wins.
With Geckoboard it's easy to monitor the metrics that matter; connect your Zendesk account, and in seconds you'll be visualizing live metrics like value won, value lost, deals by stage, average deal size, number of calls and average call duration like a pro - no training or tutorials required.
Once you've tailored your dashboard to focus on the things your team cares about, sharing it is easy:
Share a live link to your dashboard that can be loaded up in any browser, bookmarked, shared in a chat or embedded in a knowledgebase.
Invite colleagues to your account, giving them access to edit and create dashboards themselves, or only view specific dashboards.
Schedule screenshots of your dashboard to be automatically sent over email or to Slack
We've even made it straightforward to get live wallboards up in your workspace, using just a TV or large screen, and an affordable, easy-to-source dongle.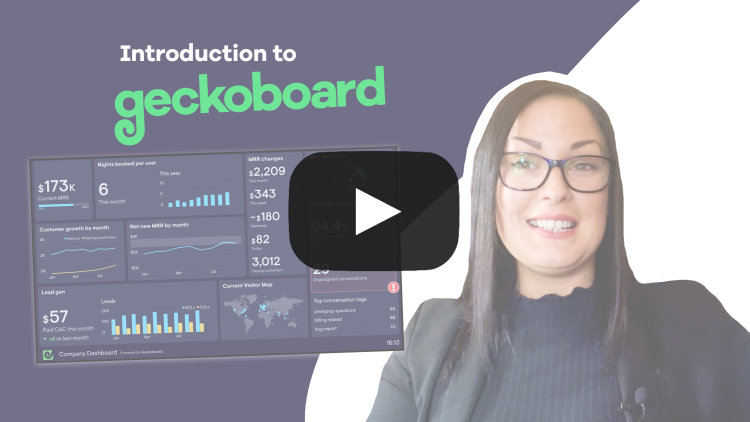 Focus on important metrics
With their heads down focusing on closing deals, it can be tough for sales reps to see the bigger picture and make decisions about where they should focus their efforts. Geckoboard helps you surface important sales metrics so your team can get a feel for what's "normal," decide what to focus on, and own the work without you needing to micromanage.
Bring live metrics together from Zendesk Chat, Support, Talk and Sell, and over 90 other tools for a full omnichannel view of what's happening across Support!
Prevent pipeline problems
Healthy pipelines don't happen by accident. By surfacing up-to-the-minute pipeline data your team can iron out inefficiencies before they get out of hand.
Stay energized
Viewing sales data on a dashboard is a great way to motivate your team! With their performance on show, the whole team is inspired to raise the bar and helps them celebrate their successes.
What our customers say
"Displaying various metrics with Geckoboard has proved to be a great talking point and creates friendly competition between our various territories. Enabling regions to see all relevant KPIs creates general banter about who is doing well and encourages those lagging behind." - Craig Wearne, Technical Analyst, Movember
"Having a top-down view gives individuals the ability to easily switch focus to where it's needed most." - Joey Wheeler, Director of Client Services, Autoloop
"Geckoboard has made a huge difference in behaviour by making my team constantly aware of the metrics that matter." - John Birtwhistle, Sales Operations Manager at eSynergy Solutions
"Geckoboard's Zendesk integration is unmatched." - Jodi Miller, Director of Customer Service, PayByPhone
Key features
Easily build great-looking dashboards using live data from Zendesk Sell, with an intuitive interface anyone can use
Refreshes automatically so data is always accurate
View Sell metrics alongside real-time metrics from Zendesk Support, Talk and Chat, as well as 90+ other tools using our code-free integrations
Powerful filters help visualize data for specific deal owners, deal stages, reps and more
Easy-to-interpret visualizations make it a breeze for teams to understand current performance in a glance
Effortlessly display your dashboard on a large screen or TV using affordable hardware (sold seperately)
Flexible plans to fit all budgets, starting at $39/month USD
Amazing support (>90% CSAT!) available 24/5 (see our own support team's live metrics here)
Try completely free for 14 days, no credit card required
Visit Geckoboard.com to get started!