The best way to manage subtickets!
Join hundreds of organizations creating more than half a million tasks each month to improve their agent workflows with checklists, sub-tickets and project automation.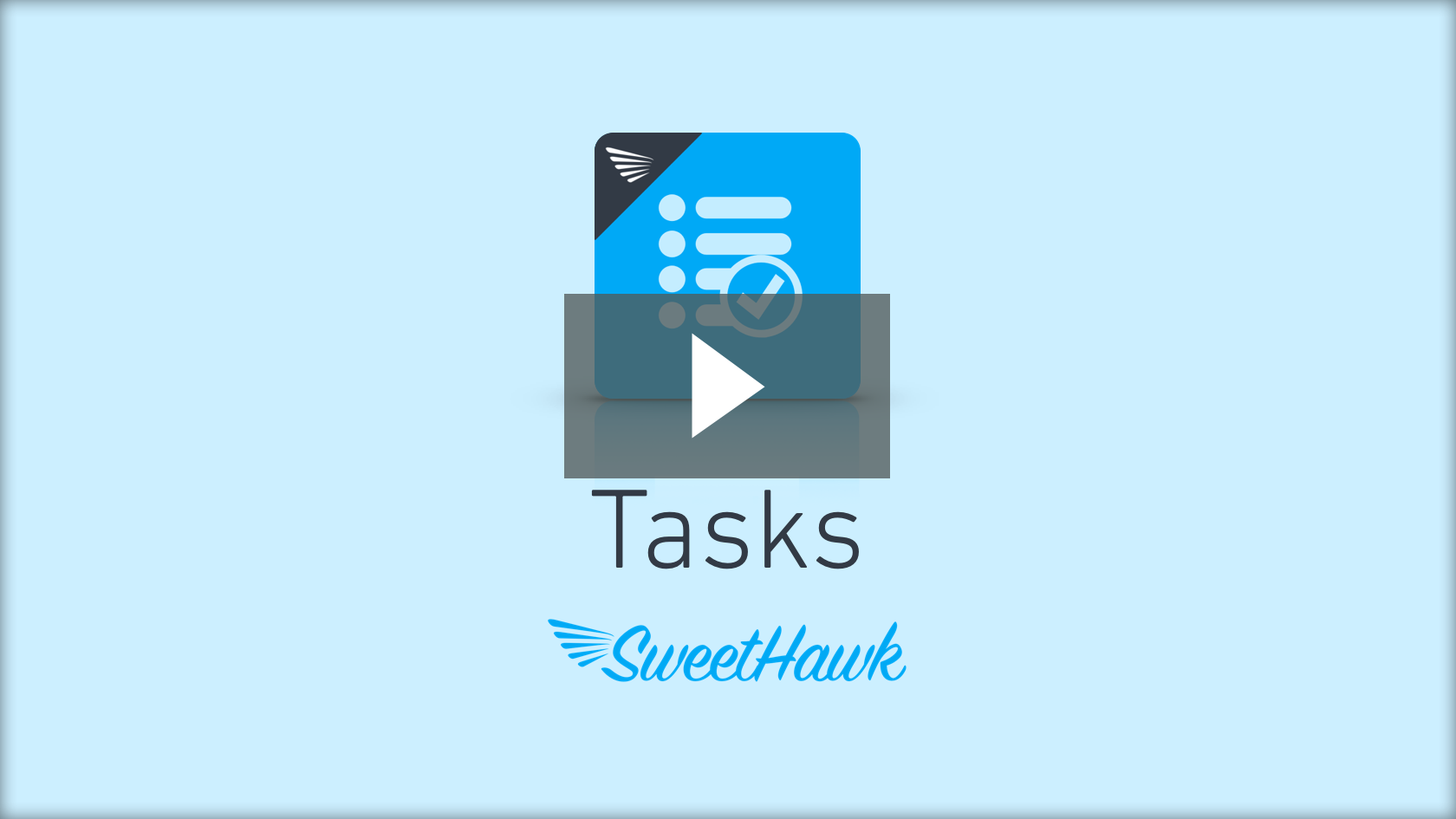 When you first start using the Tasks app, you'll notice how easy it is to create, reorder and complete tasks on the fly. And for lists of tasks that you find yourself using over and over again, you can save them for re-use and apply them to any ticket whenever you need. You can even have them added to tickets automatically! But, that is only the tip of the iceburg when it comes to what this powerful project management tool can help you achieve in Zendesk...

"We have many processes that take multiple steps and Tasks has taken the heavy lifting out of managing them"
— Craig Willis, Senior Director Customer Support, Host Analytics
Applying multiple saved task lists to a ticket: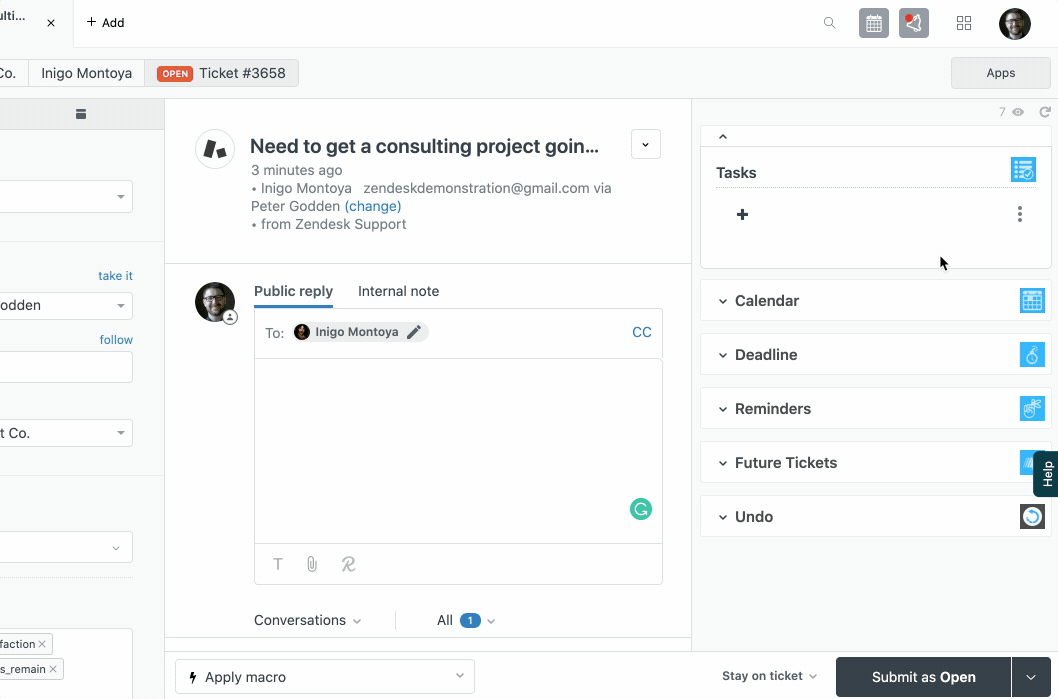 You can choose to group task lists together which makes larger projects easier to manage.
For more complicated workflows you can convert tasks into sub-tickets (aka child tickets). This allows you to divvy out and assign different tasks across your team. It also allows you to split out matters that require separate conversations with people or organizations other than the original requester, while still keeping the tickets and tasks linked to the main project. This makes it a powerful alternative to Zendesk 'side conversations'.
If you already know the contents of a sub-ticket, you can pre-define it using 'Ticket Templates'. This allows you to specify things like the subject, description, assignee etc. and any information that you'd like to copy from the parent ticket at the point it is created.
Converting a task into a pre-defined sub-ticket using a ticket template: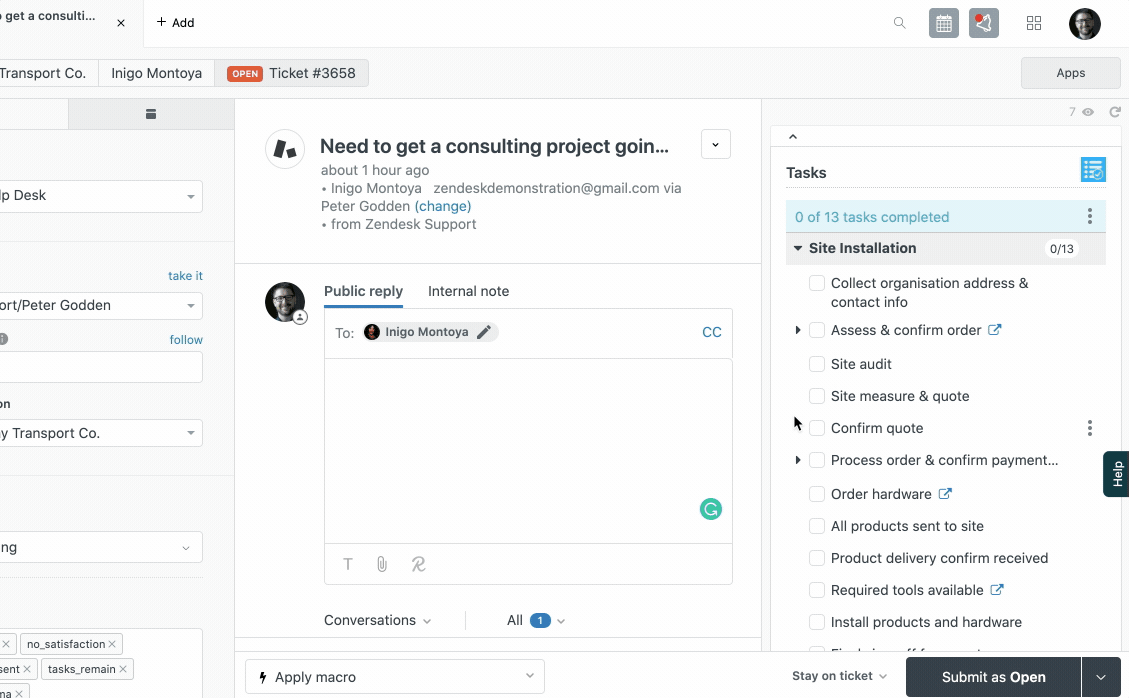 Some processes are well-trodden paths and you shouldn't have to re-invent the wheel every time they need to happen. This app allows you to automatically add task lists and create pre-defined sub-tickets based on ticket conditions specified in a trigger. This ensures that certain tasks are always completed as part of your process. It's a New Hire ticket? The 'Employee Onboarding' task list will already be present and nobody will ever wonder where the coffee machine is again!

"Tasks saves us 15%-20% of agent time for common customer scenarios"
— José Luna, CTO, Eventplicity
Features
Create and complete ad-hoc tasks on any ticket.
Save task lists for re-use.
Preview task lists before adding them to a ticket.
Either group saved task lists together or add them as separate items.
List control. Easily move tasks and grouped task lists around on a ticket.
Convert any task list item into a sub-ticket (ie. ticket-splitting).
Ticket templates allow the conversion of task list items into pre-defined tickets.
Automatically add task lists (& sub-tickets) to tickets based on ticket conditions.

Set tasks to tag tickets when completed allowing for creative workflows in Zendesk.
View logs of who created, completed and deleted all tasks on each ticket.
Access control over who can create ad-hoc tasks, add/create task lists or delete tasks.
Build reports in Zendesk Explore to measure task activity.

"Makes Zendesk perfect and feature-complete. Easily one of my favorite tools in our IT stack."
— Steve May, Director of IT, Clean

About SweetHawk
SweetHawk has been building apps for Zendesk since 2015. Their first app, Calendar, was installed by dozens of businesses within weeks of release which inspired them to create more apps like Tasks, Reminders and Notify, creating a Super Suite of apps all complimenting each other to address larger use cases such as ITSM change management, project management and HR process automation. Today, well over 100,000 agents use SweetHawk apps for Zendesk every day.