The ChatGPT Suggested Reply App helps agents to create meaningful answers for their customers. The App will use ChatGPT to create a well-funded answer that can be used to reply to the client. The agent can create replies taking the ticket content into consideration. it is even possible to request the App to rework articles from the Help Center into meaningful answers to the customer.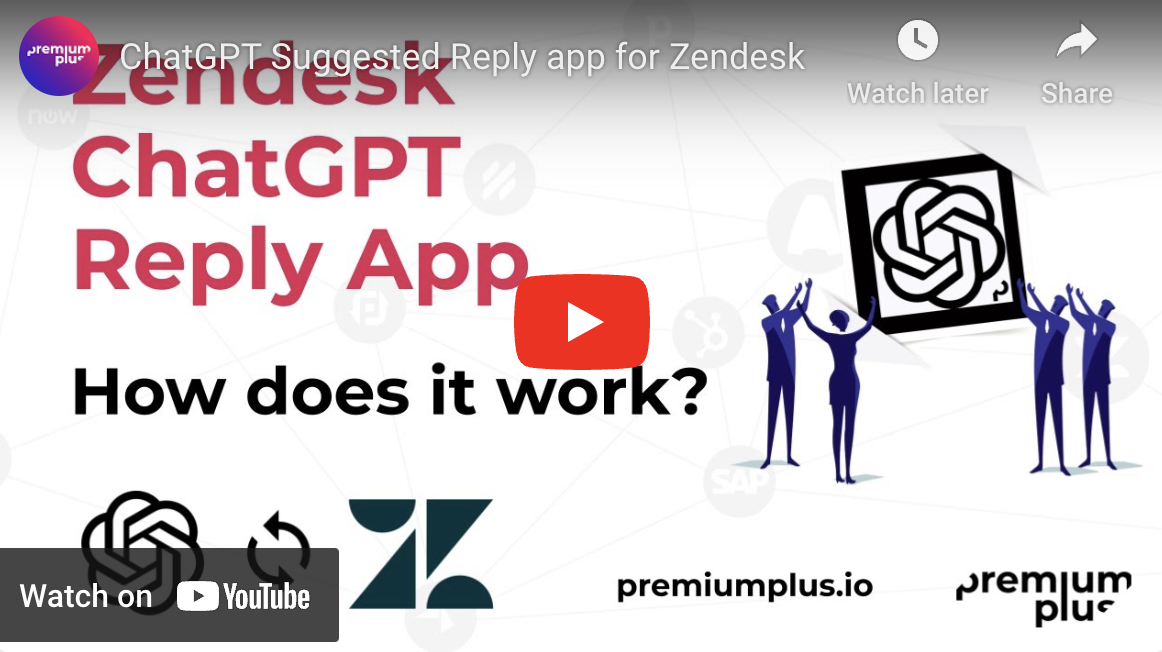 How to use:
Upon installation, a new button will appear in your ticket. See Our Help Center for more information
By selecting:
Yes, ChatGPT will suggest a reply with a positive outcome.
No, ChatGPT will formulate a reply with a negative outcome
More Info, ChatGPT will create a reply asking the client for more details
Docs, ChatGPT will check your Help Centre for applicable articles that can assist. (Note that this concerns only articles that are open to all visitors of the Helpcenter)

Rephrase, ChatGPT will create a new reply. You have the possibility to select a word or sentence and ask to rephrase it.
If you are interested in more custom reply types, reach out to Premium Plus and inquire about our Custom Build apps.
Privacy
This application makes use of ChatGPT and OpenAI's APIs to generate the replies. You can enter your own API keys upon installation or you can choose to leave the value blank and make use of our API environment if you want to test out the app without commiting to a ChatGPT license. (Note, there is a 10.000 token limit per Zendesk instance). Check out our Our Help Center for the full Privacy Log. Premium Plus does not log, store, read or capture the content sent during or after processing the inquiries but the message content is sent to a Cloudflare Worker managed by us!
See this page for more information.
Updates & support
Our apps and email templates are updated regularly to support new Zendesk features and capabilities. Have any questions about this app? Feel free to contact us.
About Premium Plus
Premium Plus is your guide to a better customer experience. As a Premier Partner of Zendesk, Aircall, and Ultimate, we provide you with the right processes, tools, and setup to deliver the best possible service to your customers in no time. Anytime and anywhere.
Find out more on our website →
---
Have any questions?
Feel free to contact us.
ChatGPT and OpenAI are copyrighted and owned by their respective owners. Premium Plus is not affiliated or does not own these brands or trademarks