This beautifully simple app gives you a comprehensive view of each customer and their order history, making it easy to provide personalized responses and a better customer experience. You'll save time and money by having contextual information presented to you within Zendesk, without the need to juggle multiple platforms or perform manual searches. Important actions can also be taken with a single click, empowering you and others working within Zendesk Sell.
There are no potentially risky plugins to install in your WordPress account and the app supports all native WooCommerce functionality and product types. Simply start a free 7 day trial to seamlessly integrate Zendesk Sell with your WooCommerce store.
Contextual information when it's needed
The app will display the customer associated with the lead, contact or deal by default, but you can search for and view other customers at any time. The Orders table allows you to view all orders associated with the customer (or guest) and even search for other orders within your WooCommerce store.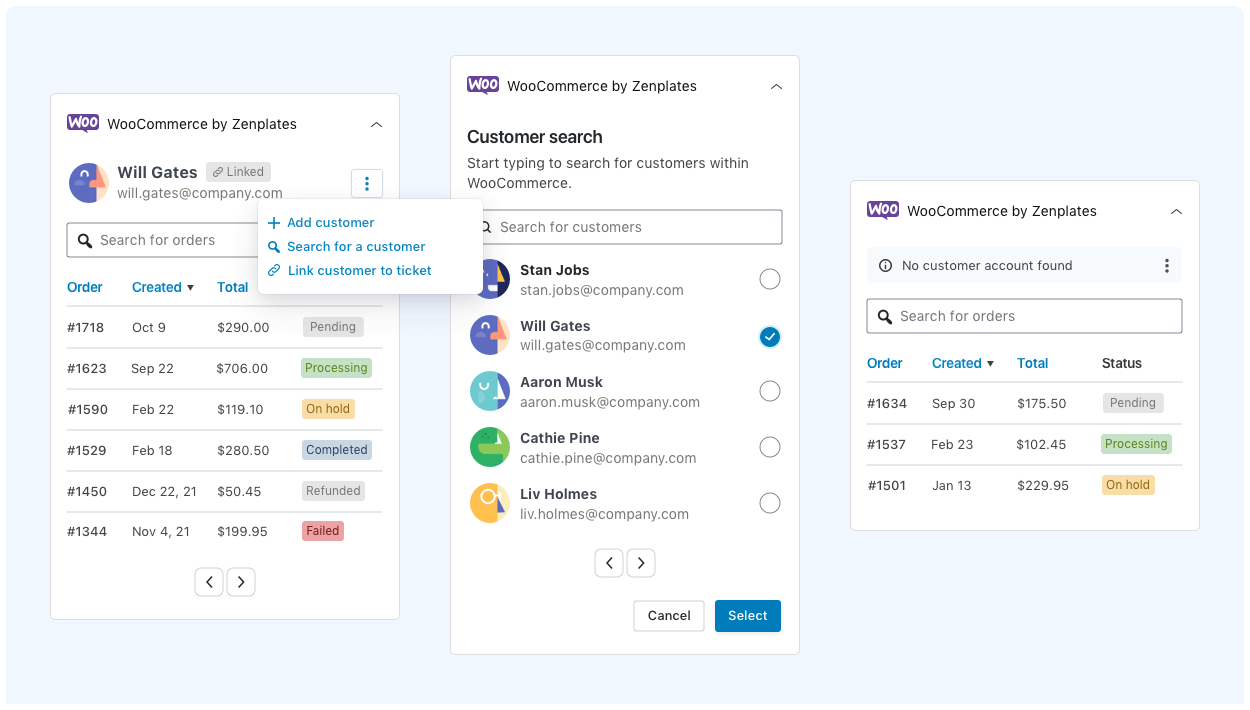 On the Orders page you can:
View all orders associated with the user in Zendesk

Search for other customers and orders within WooCommerce

Filter orders by ID or a search term

Sort orders by ID or their created date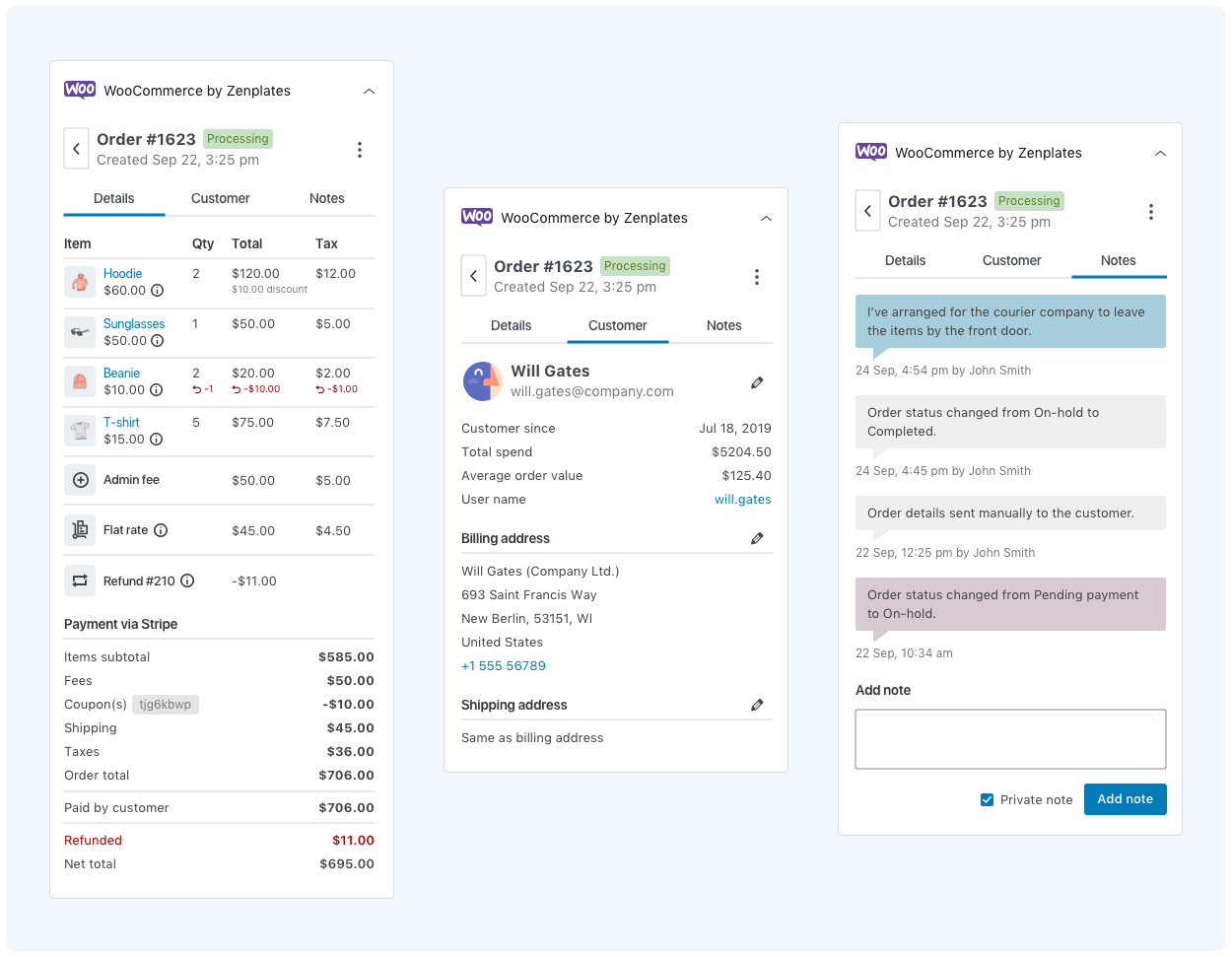 On the Order page you can immediately access:
The order number, created date and status

All product line items in the order, including unit prices, quantities, subtotals and taxes

Product line item SKU and variation details

Product line item discounts and refunds

All fee line items, including subtotals and applicable taxes

All shipping line items, including subtotals, taxes and the items contained in the shipment

All refund lines associated with the order

Discounts and coupons that have been applied to the order

The note left by the customer when placing the order, if present

Custom meta data from the order (configurable through app settings)

Order payment history, discounts, payments from the customer and any refunds

Whether the customer was a guest when then placed the order

Customer details including name, email address and billing/shipping information

Customer metrics including age of the account, lifetime value and average order value

All notes associated with the order
Enterprise-grade features without the price tag
Because common actions can be performed within Zendesk without the need to switch tabs, you'll be able to spend less time scrambling to find information and more time building better relationships with your customers.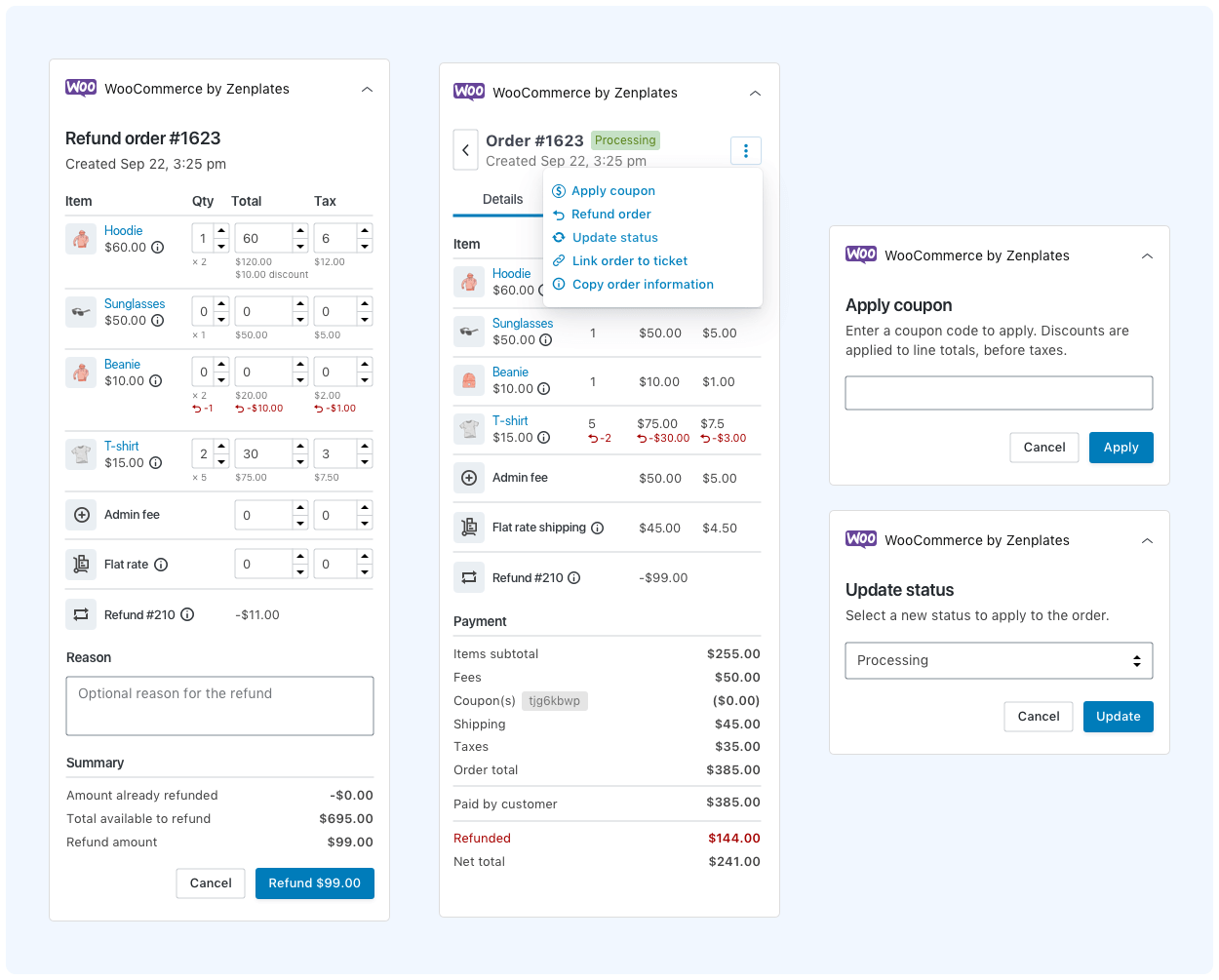 This powerful app allows you to:
Create new customers

Edit the details of an existing customer

Search for and view the details of another customer

Change the status of an order

Update the billing and shipping details of an order

Refund an order (in part or in full)

Apply coupons to an order

Add customer or private notes to an order

Click through to customers, orders and products within WooCommerce

Copy order details to the clipboard
With much more on the way!
One more thing
Did you know that we can also improve your customers' ability to self-serve? If you'd like to increase overall after-sales customer satisfaction, check out our range of beautiful and highly customizable Zendesk Guide themes.
If you have questions or thoughts about how to improve this app, please contact us as we value your feedback. We can also build a custom Zendesk Support, Chat or Sell app that supports any of the official WooCommerce extensions.