This beautifully simple app saves you time and money by providing a complete view of Stripe customers, subscriptions, payments and invoices within Zendesk Sell. You can perform important actions without the need to juggle multiple platforms or perform manual searches, allowing you to quickly and effectively respond to prospects or existing customers.
Simply start a free 7 day trial to seamlessly integrate Zendesk with your Stripe account.
Contextual information when it's needed
The app will present the customer associated with the user in Zendesk by default, but you can search for and view other customers at any time.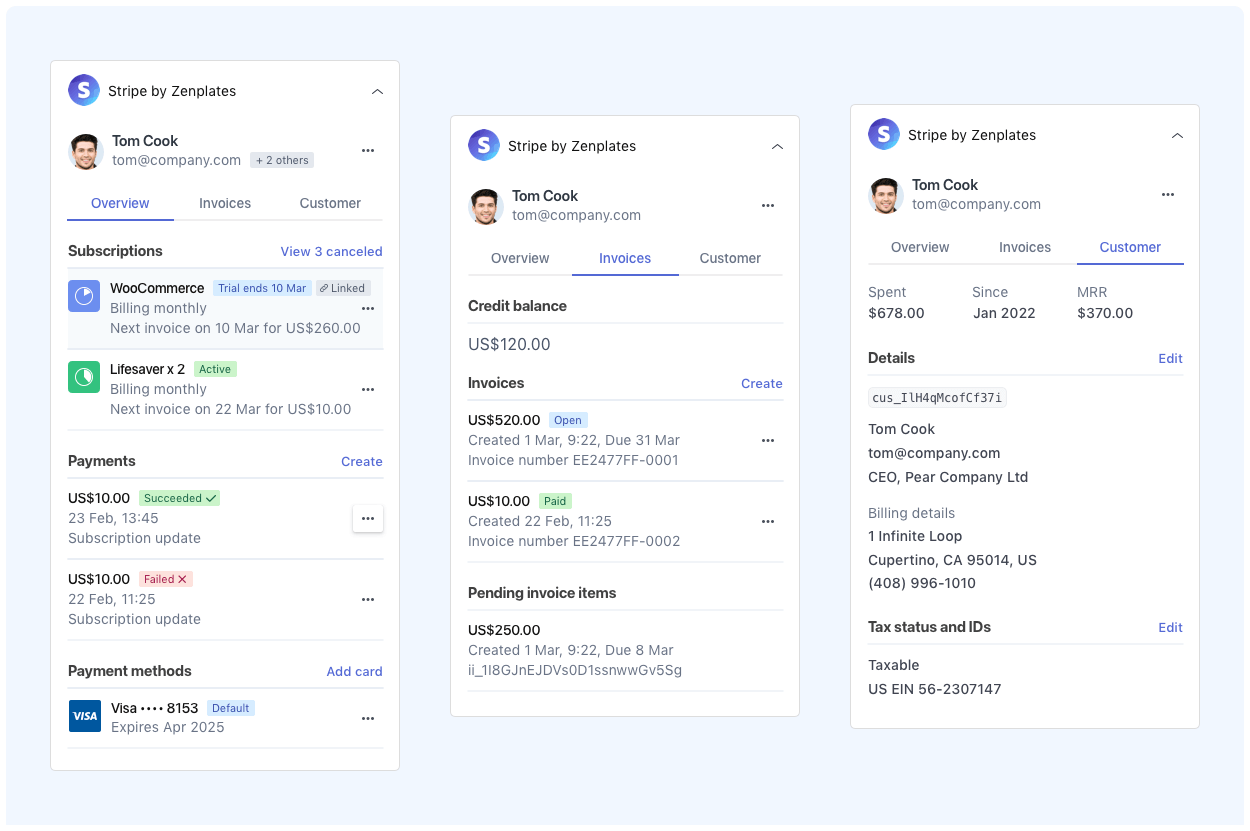 The app provides convenient access to:
Active and canceled subscriptions

Payments of all status types (payment intents or charges)

Payment methods

Invoices

Pending invoice items

Customer history, invoice credit balance and MRR

Other customer records that match the Zendesk user information

Customer contact details

Billing details

Shipping details

Customer metadata, as identified in app settings

Tax status and IDs
Additional details like refund amounts, discounts and links to hosted invoices are provided through tooltips and action menus throughout the app
Enterprise-grade features without the price tag
Because common actions can be performed within Zendesk without the need to switch tabs, you'll be able to focus on providing more valuable responses and maintaining your important customer relationships.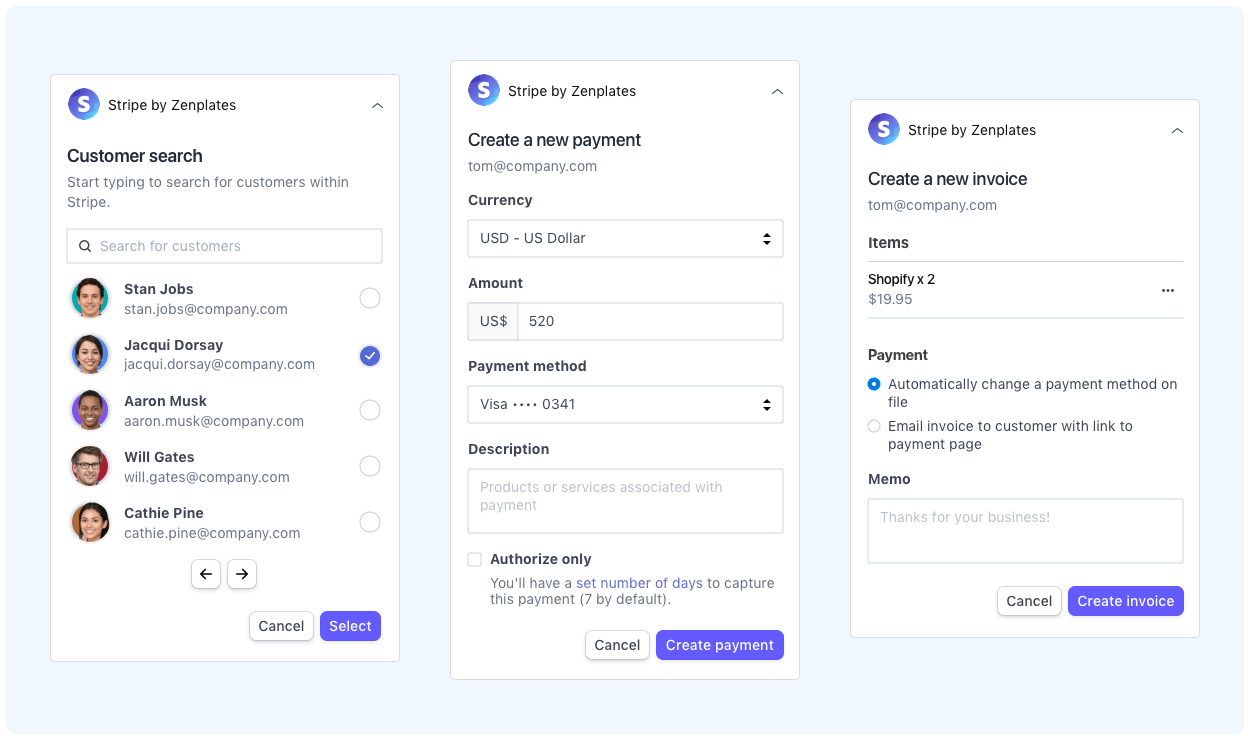 This powerful app allows you to:
Create, authorize and capture payments

Cancel and refund payments, in part of in full

Update the trial period for subscription

Apply coupons to subscriptions

Pause and resume payments on subscriptions (recurring payments)

Cancel subscriptions immediately or at the end of the current period

Reschedule subscription cancelation or prevent a cancelation from going ahead

Refund the last subscription payment or a prorated amount

Create new invoices

Delete draft invoices

Update the status of open invoices

Adjust the invoice credit balance in a variety of currencies

Send links to hosted invoice pages and downloadable PDF tax invoices

And and edit payment methods

Delete payment methods

Change the default payment method for customers

Create new customers

Update customer account information

Update a customer tax statuses and IDs

Search for customers within Stripe

Link a customer to a ticket

Click to view customers, subscriptions, payments and invoices in Stripe

Link subscriptions, payments and/or invoices to a ticket, allowing you to create powerful trigger and automation-based workflows
With much more on the way.
For complex invoicing workflows Zapier or another no-code automation tool can be used to update the ticket or user in Zendesk once an invoice has been paid using metadata passed to Stripe by our app.
Our simple pricing gives you access to all features for a flat rate of $4.95 per agent, per month. There are absolutely no additional or hidden fees and you'll benefit from all new features as they're released. Start with a free 7 day trial to see how much more efficient you can be with Stripe and Zendesk working together seamlessly!
One more thing...
If your customers self-serve using a Zendesk Guide Help Center you may also be interested in our range of beautiful and premium Zendesk themes. They allow you to help improve overall customer satisfaction and minimize churn.
If you have questions or thoughts about how to improve this app, please contact us as we value your feedback. We can also build custom apps and themes for Zendesk if you have special requirements.