Le Tote increases agent productivity by 3X to handle a sharp spike in ticket volume
The Zendesk CX platform helps Le Tote keep costs down, increase conversions, and improve member experiences while growing 50% month-over-month. A tricky challenge considering that to keep customers happy, agents need to understand each customer's preferences, down to a T.
60%
Decrease in Chats With Embeddables
Let's face it, not many women get excited when they open their closets in the morning. The answer to the perennial question, "What shall I wear today?" is almost always a compromise between dreams of cute, new outfits, and the drab reality of an ordinary closet.
Then, in 2012, Le Tote came along. Inspired by companies like Netflix, Le Tote lets women rent their wardrobe in the same way they borrow a DVD. Customers select clothing and accessories they love from an online collection. For $49 per month, they receive a tote with three clothing items and two accessories. Every tote includes items customers choose themselves along with items selected by Le Tote's stylists that match an individual's overall style. Customers can return a tote for a new one as often as they want for a wardrobe that continuously expands and delights.
Le Tote immediately struck a chord. "I just discovered @letote and it's actually the best thing ever created," a new customer wrote on Twitter in May. "The best part of the day is an email from @letote telling me my tote (i.e., my fashion box of love) is on its way," another confessed.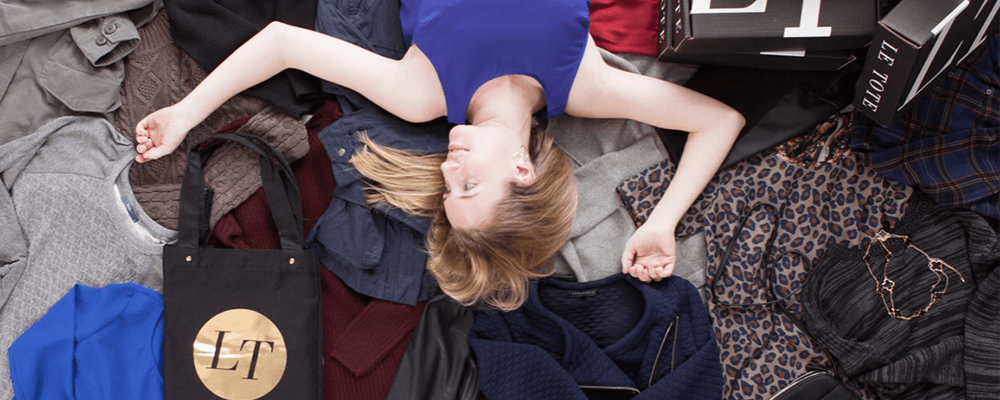 But Le Tote knows it can't take customer happiness for granted. The company invests significantly in its customer service team headed by Aubrie Rice.
Like any customer service leader, Rice makes sure she has the staff and tools she needs to solve customer issues quickly, even as Le Tote grows at a rate of 50 percent a month. But Rice has another, trickier challenge. To keep customers happy, Rice's agents need to understand what each woman likes and doesn't like and log that in the customer record. Anyone who has tried to shop for a friend, sister, girlfriend or wife, knows this is not an easy task. For Rice, the difficulty was compounded by the fact that customer service requests increased last year by more than 900 percent, thanks to Le Tote's explosive popularity.
Rice needed a customer service solution that would allow her agents to forge real connections with Le Tote's customers while also automating routine interactions. "We wanted to provide very personalized and proactive service," Rice explained. Le Tote currently offers support over email, chat, and phone. Rice is considering adding Facebook Messenger as an additional channel as well.
Rice said she chose Zendesk Support for its flexibility and feature set. "Zendesk Support lets us be there in the customer's moment of truth," she explained. That is the all-important moment when a customer opens up and says something that can make or break a tote selection. For example, "I'm 5'10" so I try to stay away from short skirts." Or "I've been getting a lot of brown-colored items lately, and I'd much rather wear something more colorful in the spring."
Among the Support features that Rice appreciates are Zendesk Embeddables. By using the Mobile SDK, Web Widget, and the Zendesk API, Le Tote offers customers the ability to engage with the Le Tote support team directly from the Le Tote mobile app or while they're browsing the site on a PC.
With Zendesk Embeddables, Le Tote enables customers to search for answers while continuing to shop. As a result, chat requests have dropped by 60 percent.
Rice said she initially expected chat requests to skyrocket after the embeddable functionality was rolled out, but since customers are guided to search Le Tote's knowledge base first, before initiating a live chat session or submitting a ticket via email, they found that chat requests declined. In fact, two weeks after rolling out the web widget, chat requests had fallen by more than 60 percent. The chats that did come through involved issues that were more complex and that provided opportunities for building a stronger relationship.
"It's a perfect example of how Zendesk Support is helping us keep our costs down and be very efficient," Rice said.
Another plus for Le Tote is the ability to set triggers based on actions that a customer takes on the website. For example, a trigger prompts agents to reach out to customers who are lingering longer than average on the checkout page. Last year, the customer team used the information they gathered in response to the trigger to provide feedback to Zendesk's developers and designers. That led to a new page that better-matched customer needs. Together, they increased conversions.
Even as Rice's team has expanded such proactive efforts, productivity has soared. During the last year, the number of tickets each agent has handled has more than tripled—from 260 in April 2014 to 834 in April 2015. Though the number of tickets surged from 780 to 6,677 per month, year over year, Rice was able to handle the increase with just five additional agents, for a total of eight. Meanwhile, Le Tote has maintained a 94% customer satisfaction rating.