Employee experience software
Employee experience software
Elevate the employee experience and boost productivity with data.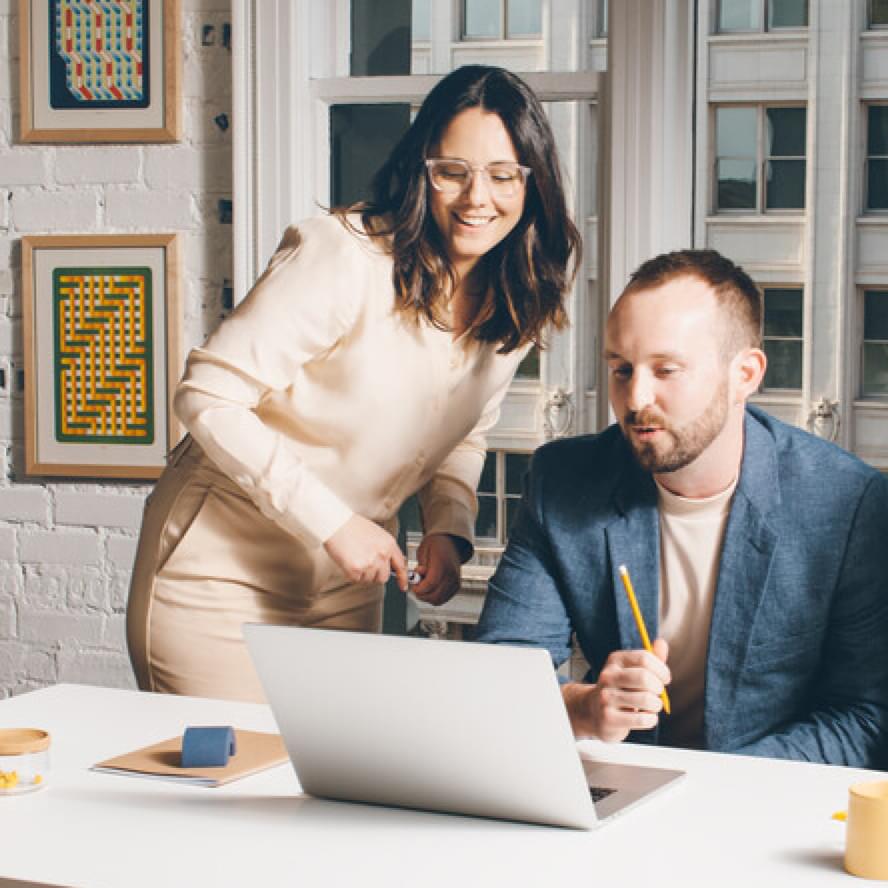 What is employee experience management software?
Employee experience management software is an umbrella term describing the ecosystem of software, apps, and integrations that companies use for their employee experience. Employee experience platforms like Zendesk, Lattice, Culture Amp, and others give employers a bird's eye view of what's happening within their organization, so they can readily identify what's working, what's not, and why. With the analytics these tools provide, leaders can make data-driven decisions about things like recruiting, engagement, and retention.
Features of employee experience platforms
Help desk
A centralized internal help desk is one of the key benefits of an employee experience solution, as it allows you to manage conversations, streamline workflows, and maintain visibility across employee populations.
As with customers, companies provide support for their employees so they can find answers to FAQs and access internal information or proprietary knowledge. This is typically done with a combination of an email ticketing system, help center, and conversation management tools like live chat and texting. Internal service involves a lot of the same tools used for customer service, so sometimes organizations will use the same solution for both and save on licensing fees.
Since the pandemic shake-up, internal help requests have increased 30 percent. A ticketing system can help you manage the influx of requests and show your employees that you're eager and willing to help address any issues that come up.
Help center
With an employee help center, sometimes called an employee portal, employees can search and find answers to common questions.
For example, a help center might cover FAQs like:
How do I submit a request for reimbursement?
When can I change my health insurance election?
Can I get a copy of my paystub?
How do I get access to Google Analytics?
I noticed an error on the website. Who do I talk to about updating it?
How much budget do we have for professional development opportunities?
Documenting this type of information is especially helpful when you have hybrid or remote employees because they can get help no matter where or when they are working.
If you already have a separate employee portal or intranet, you may be able to incorporate your help desk depending on the system you use. LumApps is one example that allows you to connect your help center and intranet without requiring employees to toggle between multiple different tools.
Live chat and conversations
As more young people enter the workforce, messaging is quickly taking over email as the dominant way of communicating. That's why tools like live chat software and conversational workspaces are so valuable for employee experience teams.
Younger generations especially are looking for less formal ways of communicating. By 2030, Gen Z will be 30% of the workforce, and they are a driving force behind many of the cultural changes in the workplace over the last several years. This generation of workers has high expectations, and they won't be afraid to tell you if your digital experience is lagging behind.
Here are a few ways you can cater your communication to Gen Z:
Provide options
Live chat, SMS, and messaging apps (like Slack or Microsoft Teams) can help your younger employees feel more comfortable reaching out to ask for help. Accommodating a variety of communication styles benefits all your employees, so it's an easy win.

Be casual
Corporate jargon is falling out of fashion with younger generations. It's OK to drop the formality and talk to your employees like they're humans. Use emojis to make it more fun, but make sure you understand what those emojis actually mean.

Don't sugar coat it
This generation grew up on the Internet, so they know how to tell when people are lying. Don't give them talking points that aren't sincere, and don't sugar coat the truth. As one HR professional put it, "Gen Z won't put up with our corporate BS."
Artificial intelligence and chatbots
AI chatbots are pretty common in the world of customer service, but they also have applications in the workplace. Chatbots can help internal teams:
Answer basic FAQ questions
Automate simple troubleshooting workflows
Surface answers for employees even when support staff are off the clock
Chatbots don't replace human assistance, but they can take some of the pressure off your help desk team. Employees can get quick answers and then get on with their day. Meanwhile, your desk team can have more time to focus on nuanced questions that require more thought.
Employee experience platforms can also do help desk automation. Automating routine processes saves HR teams time and creates greater consistency and accountability for internal teams.
Feedback management
Most employee experience platforms have some type of feedback functionality, which includes things like employee satisfaction surveys, 360 feedback, anonymous feedback, etc. Some tools can also facilitate peer feedback and performance reviews, if you don't already have a solution in place.
As organizations try to course-correct in the wake of the Great Resignation, having a system in place to track and monitor employee feedback will be critical. Measuring employee satisfaction, especially with targeted surveys and temperature checks, gives you real-time data you can use to identify what's working, what's not, and why. It can also illuminate process gaps and pain points that may be contributing to employees' feelings of frustration and overwhelm.
EX solutions can be used in tandem with survey tools like SurveyMonkey or Qualtrics. For example, Zendesk has an integration with Qualtrics so you can automatically send surveys based on actions taken in Zendesk.
Gone are the days when you could send one lengthy feedback survey at the end of the year. Companies are collecting feedback all the time, and it's scalable when you use an EX solution like Zendesk that allows you to send satisfaction surveys automatically after every interaction. That way, you can identify issues and solve them before they become serious problems.
Performance tracking
One benefit of using an employee experience platform is that you can track performance metrics for both individuals and teams.
Depending on the tool you use, you may be looking at help desk metrics like response time and resolution time to gauge how effective your team is at handling employee questions. You may also be looking at feedback or satisfaction ratings for individual team members. Some tools also offer peer performance ratings and employee recognition.
This data is incredibly valuable for both leaders and individuals. Performance reviews are much more meaningful when they are quantified with data. Plus, teamwide performance stats allow you to drill down and identify areas for improvement that you can work toward as a group.
You can also take advantage of app integrations for training and professional development. Gamification is another tool that teams use to make training more enjoyable and incentivize continued skills development.
KPIs and analytics dashboards
Some type of KPI dashboard is standard with just about any employee experience platform. Being able to see a snapshot of your performance at any given time is highly valuable, though the functionality of these tools can vary greatly as well as the ability to create custom dashboards.
In our review of employee experience solutions, reporting and analytics was one of the most common pain points that reviewers mentioned. One of the reasons for this might be that every team who uses one of these tools has a unique set of needs and circumstances that they are trying to solve for.
That's why customization is so important when you are comparing different solutions. Most tools come with a set of dashboards you can use right out of the box, and those are a great place to start, but at some point you'll probably want to dig deeper and create some of your own custom dashboards.
Here's an example of what that looks like in Zendesk:
It also helps if you have an idea of what you're really trying to measure. Maybe you simply need a quick temperature check on how your team is performing so you can share with senior management. A pre-built dashboard could probably get the job done. But maybe the organization is going through a major transformation, and you're tasked with tracking employee questions and feedback throughout the process. In that case, you might want to see custom dashboards related to certain keywords and review trends over the duration of the transition.
Top 7 employee experience tools
Zendesk
Zendesk for employee experience helps companies manage business-to-employee (B2E) relationships with a high degree of personalization and care. Zendesk takes a conversational approach to employee support, logging every conversation so your HR team can maintain visibility and accountability every step of the way.
G2 reviewers praised Zendesk for its ease of use and powerful customization options, which have been battle-tested in the highly competitive landscape of customer service. Customers who've used the solution internally to support their employees have reported faster onboarding, easier issue resolution, and reduced ticket volume.
Pricing plans:
Suite Team: $49 person/month
Suite Growth: $79 person/month
Suite Professional: $99 person/month
Free trial: Yes
Features:
Dashboard
Issue management and escalation
Automated routing
Canned responses
Help center
Knowledge management
Live chat
AI chatbot
Asset tracking
Project management
Reporting and analytics
Customizable KPI dashboards
Performance tracking
Satisfaction surveys
Lattice is an employee experience platform focused on performance management, offering a variety of solutions for things like 1:1 meetings, 360 feedback, employee recognition, and performance reviews. They offer tools for both employees and managers to take ownership of their experience.
Lattice made G2's list of Top 50 HR Products in 2022, and reviewers said that Lattice was most impactful for its ability to provide structure and accountability for asynchronous teams and strengthening 1:1 check-ins. They also noted a few shortcomings with the platform, including too many nested pages, unclear calls to action, and a lack of pre-built templates for surveys.
Pricing plans:
Performance+OKRs plan: $11 person/month
Engagement plan: +$4 person/month
Grow plan: +$4 person/month
Free trial: Yes
Features:
Benchmarking
Customizable templates
Dashboard
Employee recognition
Engagement tracking
Goal setting and tracking
Reporting and analytics
Feedback management
Performance tracking
Peer appraisals
HappyFox provides standard ticketing system functionality in a user-friendly format for HR, IT, and Operations teams. They also offer tools to help manage workflows and display data across different departments. For IT teams, they have an AI-assisted service solution that allows you to message employees directly in Slack or Microsoft Teams.
Users who reviewed the solution had positive things to say about the platform's easy-to-use interface, noting that it was easy to onboard new agents. Some pain points were limitations with the reporting functionality as well as inconsistency of features on desktop vs. mobile.
HappyFox offers monthly, annual, 2-year and 3-year pricing plans. Below are their annual pricing options.
Pricing plans (annual):
Mighty plan: $29 agent/month
Fantastic plan: $49 agent/month
Enterprise plan: $69 agent/month
Enterprise Plus plan: $89 agent/month
Free trial: Yes
Features:
Dashboard
Cataloging/categorization
Collaboration tools
Customizable branding
Customizable templates
Feedback management
Project management
Reporting and analytics
Self service portal
Sentiment analysis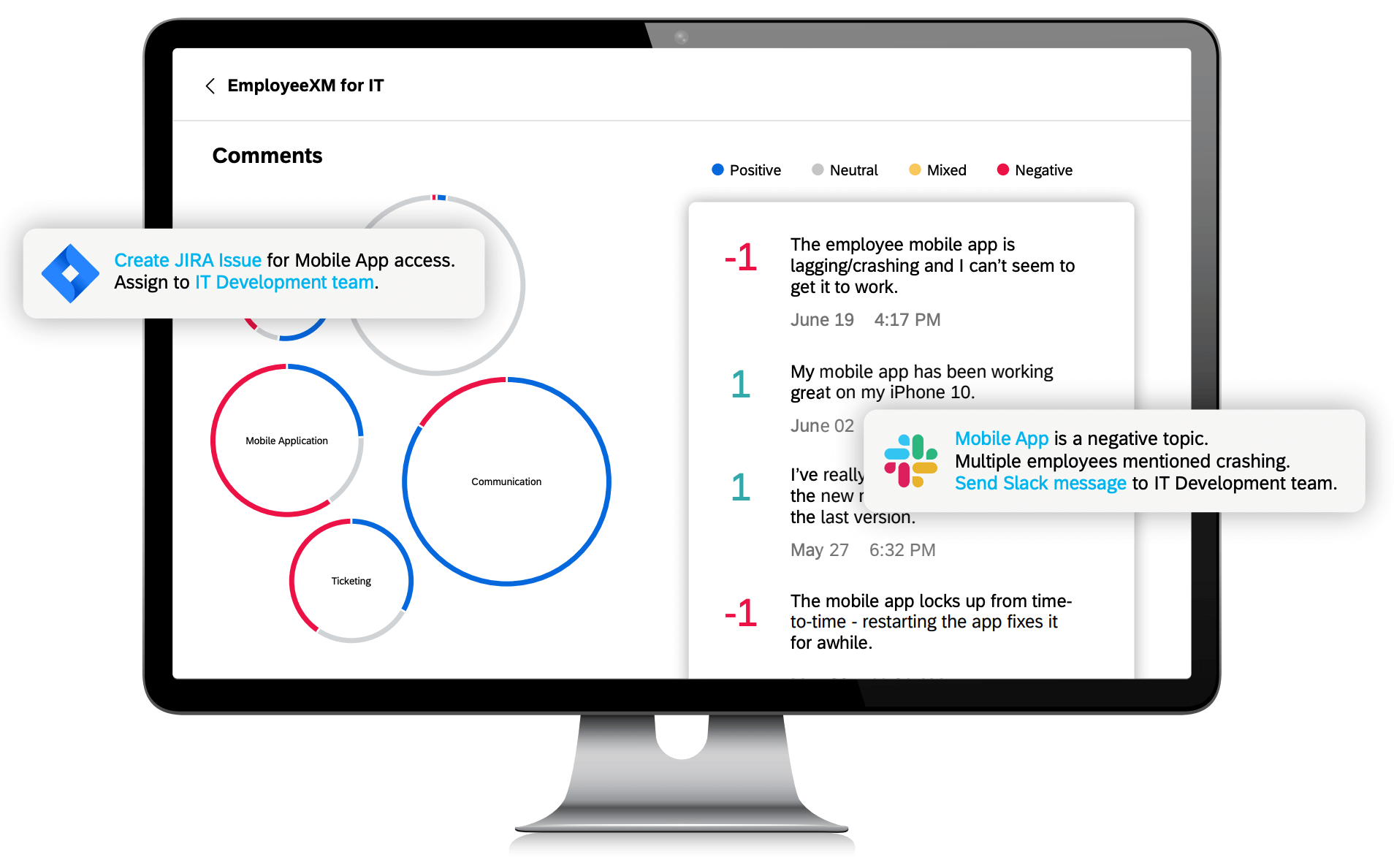 Qualtrics is known for its powerful survey and data collection capabilities. Their employee experience solution gives businesses the ability to continually survey employee populations, monitor trends, and identify potential problems before they become roadblocks.
G2 reviewers spoke highly of Qualtrics EmployeeXM, specifically the ease of creating surveys and downloading results. Critiques of the solution mentioned that the setup of certain charts and dashboards was cumbersome.
Pricing: Not available
Free trial: Yes
Features:
Feedback management
Dashboard
Progress tracking
Question library
Rater selection
Reporting and analytics
Self service portal
Surveys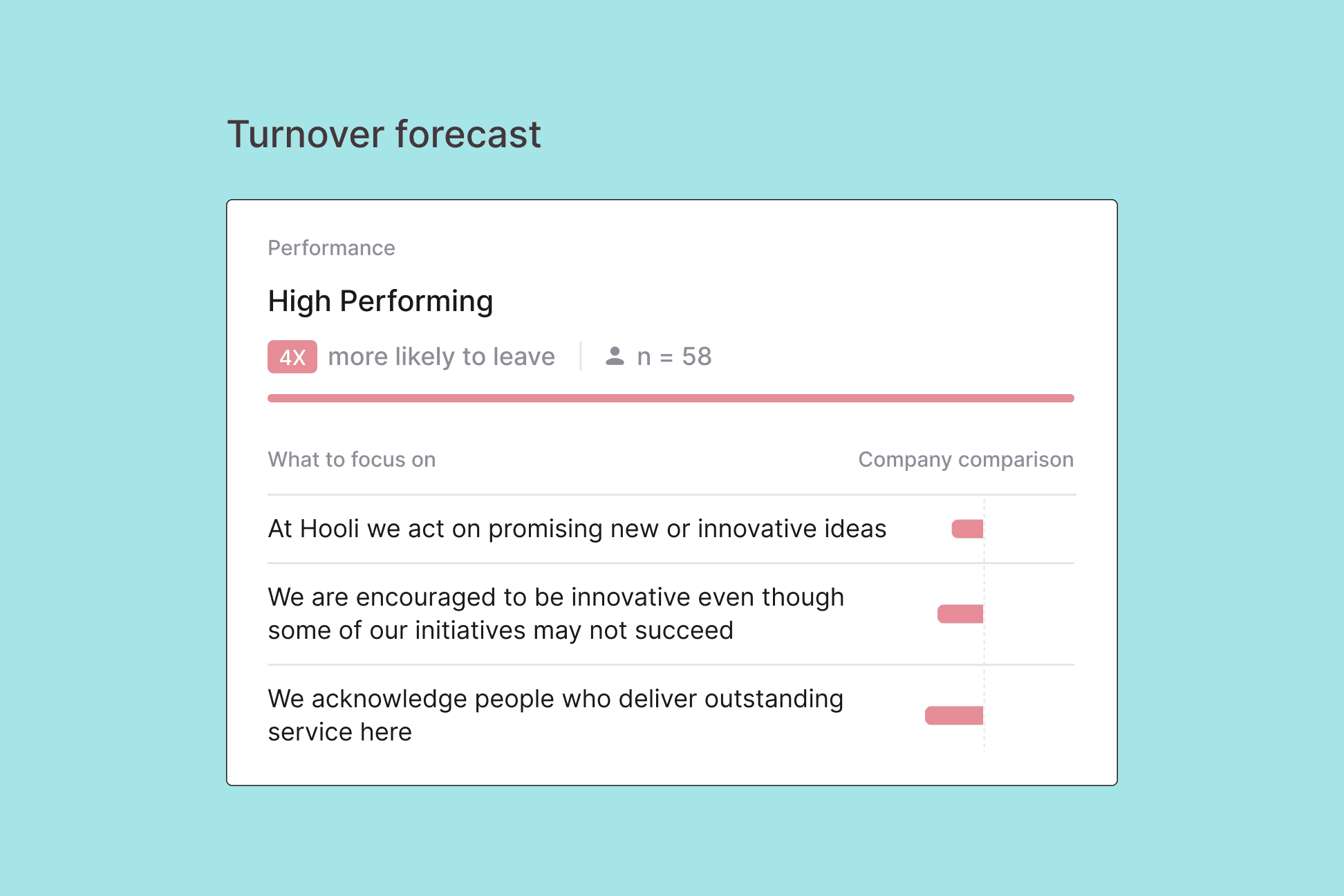 Culture Amp is an employee experience platform that offers solutions for employee engagement, performance management, and professional development. Integrations with Slack, Microsoft Teams, and Chrome allow you to build employee engagement into your existing workflows.
Capterra reviewers liked that Culture Amps was easy to use for things like 1:1s, employee surveys, and performance reviews, but they also expressed some limitations with integrations and the ability to bring in data from third-party partners. Some said they wished for more robust data and analytics.
Pricing: Not available
Free trial: No
Features:
Feedback management
Assessments
Benchmarking
Compensation management
Dashboard
Customizable templates
Employee recognition
Goal setting and tracking
Individual development plans
Kazoo is an employee engagement platform with a strong focus on employee recognition, peer feedback, and relationship building. They recently joined forces with WorkTango to enhance their employee survey offering. One notable feature is the anonymous response functionality, which allows you to ask follow-up questions to employees without identifying them.
Reviewers on Capterra and G2 noted that the platform was strong for employee recognition and rewards. They liked the ability to integrate performance management and recognition in the same platform. While effective for boosting morale and encouraging employee engagement, several reviewers said they wished the tool had better reporting and analytics.
Pricing: Plans starting at $4.25/month
Free trial: No
Features:
Feedback management
Assessment management
Customizable templates
Dashboard
Data analysis tools
Employee database
Employee management
Employee profiles
Employee recognition
Goal management
eCards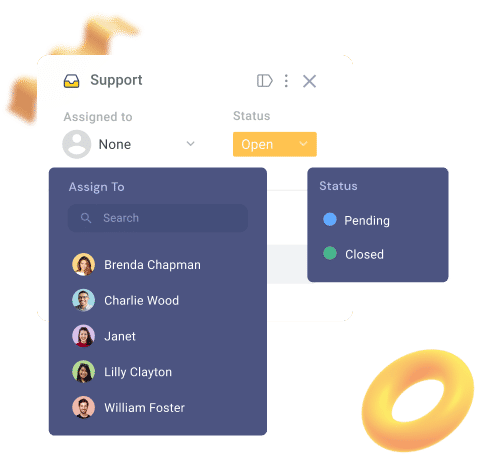 Hiver is a help desk solution built for Google Workspace. Teams can track and manage requests within the Gmail interface, bringing in more robust service desk capabilities like automatic routing and live chat. Use cases include client services, operations, and internal support.
Hiver was recognized as an emerging favorite in the Capterra Shortlist 2022 for email management and help desk software. Reviews of the solution were generally favorable, but a few users expressed concerns about the platform's security and service consistency.
Pricing:
Lite plan: $15/month
Pro plan: $39/month
Elite plan: $59/month
Free trial: Yes
Features:
Issue management and escalation
Automated routing
Canned responses
Collaboration tools
Email management
Live chat
Performance metrics
Project management
Queue management
Remote access
Remote support
Try an employee experience platform for free
What does a workplace powered by Zendesk look like? Sign up for a quick demo to see how Zendesk makes work easier, one conversation at a time.
There's more where that came from!
Your employees are your most precious resource. Here's more about how to cultivate a great relationship with them.