Call Center Software
Call Center Software
An impressively powerful yet surprisingly easy system for managing call center operations.
A guide to the best call center software
With the proliferation of email, live chat, social media, Zoom calls, chatbots, and more, you might think phone support is old hat.
But that couldn't be further from the truth: according to our 2021 report, the majority of customers resolve issues using the phone.
Fortunately, that doesn't mean call centers must rely on outdated technology to facilitate top-notch phone support. Modern call center software can massively enhance the effectiveness while minimizing the operating costs of any call center.
On this page we'll dive deep into the world of contact center software. We'll review the following topics:
What is call center software?
Call center software is a program that helps organizations handle large volumes of inbound and/or outbound calls. Generally speaking, call center software executes tasks such as routing calls, collecting caller information, triggering pre-recorded answers to FAQs, and transferring callers to other channels.
How does a call center phone system work?
At a high level, call center phone systems work by enabling you to collect caller data, pull data from and push data to other systems, and configure call flows according to business rules. For instance, when a customer calls your business, your call center phone system will prompt them to provide their information.
Using that information, the software can match it with an existing customer record in your CRM and surface that record for the agent who handles the call so they can provide more personalized service.
Why use contact center software?
Any business with a high volume of outgoing and/incoming phone calls can use contact center software to simultaneously improve the quality of their phone support service and decrease ongoing operating costs. For example, automating most or all of the processes of call handling will significantly reduce the frequency and impact of human error.
Who uses call center software?
Call center software is not necessarily industry-specific. Companies in healthcare, financial services, e-commerce, retail, technology, business process outsourcing, consulting, business services, and more may use call center phone systems. At the same time, many companies in those industries don't use call center software. It all depends on whether your business handles large call volumes.
What are the different types of call center solutions?
Call center solutions can defer based on how the software is delivered and maintained and in terms of what they're designed for. Some solutions are geared towards outbound calling while others are built for inbound calling and still others combine both.
Outbound and inbound call center software can also be cloud-based, hosted, or on-premise. Keep reading to learn what that means and why it matters.
Hosted, cloud-based, and on-premise call center solutions
Hosted, cloud-based, and on-premise refer to how software is delivered.
When software is hosted, it means the software vendor stores the system and your data on their servers. When software is cloud-based, it means the software vendor stores the system and your data on the servers of a third-party vendor, like Google or Amazon. On-premise refers to software that's stored on your own servers.
How your call center solution is hosted (or not) affects your maintenance cost. All else equal, on-premise is the most expensive since it requires you to purchase and maintain your own servers, which includes updating the software yourself. Hosted software generally carries a lesser maintenance burden but is still less cost-effective than cloud call center software.
Inbound and outbound call center solutions
Two other types of call center solutions are inbound or outbound phone systems. Outbound call centers are meant for sales teams, research organizations, or any business that makes a high volume of outbound calls. The difference between the two comes down to the various features each type of software offers to facilitate outbound or inbound calling.
For instance, outbound call center systems will include functions specific to outbound calling, like power dialers. Whereas inbound call centers have features designed to speed up inbound calling, like IVR.
What's the difference between a call center and a contact center solution?
The real answer is: there's no difference between a call center and a contact center solution. Customer service in 2022 is omnichannel or—at the very least—multichannel. The old thinking says the difference between the two is that call center solutions help facilitate service in only one channel (the phone) while contact center solutions help facilitate service in all channels—email, social media, phone, etc.
But, like we said, phone-only customer service is (and has been) obsolete. If your call center solution doesn't help you manage multiple channels, that's a hard pass.
What are the benefits of a call centre phone system?
Improved call center efficiency
Imagine how much time and staffing expense you would save if you could automatically do these three things:
Route calls (and caller info) to the best possible available agent.
Redirect callers to less busy service channels when agents aren't available.
Provide pre-recorded answers to frequently asked questions.
The best call center software does all of the above and much more. As a result, you can handle higher call volumes with lower operating costs. For certain businesses, this can mean the difference between profit and loss.
Enables 24/7 self-service support
For most businesses, offering live service around the clock simply isn't feasible. But while you can't replace a live agent with contact center software (… yet), you can offer customers some service with voice-prompted help menus. Of course, you won't be able to answer all customers' questions with pre-recorded messages but you can answer some of them.
Plus, if it's integrated well, your software can redirect callers to a different self-service channel that might provide more answers than the call center.
Facilitates seamless omnichannel service
The easier it is for customers to switch between service channels, the quicker they can get their issues resolved. And year after year, quick issue resolution is a top priority for customers in all industries.
By enabling your agents to, for example, route customers to a more suitable service channel, call center software is a key ingredient in the recipe for successful omnichannel service.
What are the essential features of contact center software?
Intelligent call routing
If contact center software had a secret sauce, intelligent call routing would be it. After all, a big part of what makes contact center software valuable is its ability to route incoming calls to the right person as quickly as possible.
That isn't possible without call routing that's configured based on what works best for your business, which is why intelligent, automated call routing is a contact center feature you can't go without.
Call monitoring and whispering
Call monitoring and call whispering are two essential features to look for in your call center software because they help managers train and coach new and existing employees more quickly. Call monitoring is exactly what it sounds like; it enables managers to listen in on agent-customer interactions. This is critical because it gives managers a better understanding of what's working and not working so they can tailor their feedback to each agent appropriately.
Call whispering allows managers to "whisper" advice or coaching to agents without the customer hearing the manager while the agent interacts with a customer. That way, managers can help new agents build confidence while they learn the ropes.
In the end, both features help contact centers—which often struggle with high turnover—train agents more quickly and efficiently.
Call center analytics
While call monitoring and whispering gives managers the chance to observe and coach their employees in real-time, call center analytics provides the big picture. Call center analytics allow you to observe and report on metrics such as:
Missed and declined calls
Transfer rate
Call abandonment rate
Average first response time
Customer effort score
Customer satisfaction score
Total resolution time
Using reports on these metrics, managers and agents alike can get a better idea of where they need to improve.
What do you need to set up a call center software for your business?
To get your call center software set up, you'll need to sign up for a free trial or paid plan with a call center software vendor. Through this vendor, you can port over your existing business phone number or purchase a new one. From there, it's a matter of configuring the software based on your business's desired outcomes for call management. Part of that configuration may also include integration with other tools your business uses to provide customer service, such as CRMs, help desks, ticketing systems, and more.
Depending on your call center software vendor, the configuration and integration process will vary.
Top 20 call center software solutions
Zendesk




Webex




Zoho Desk




LiveAgent




TalkDesk




GoToConnect




NICE CXone




Bitrix24




Dialpad




Five9



CallHippo




Twilio Flex




VICIDial




Aircall




3CX




MiCloud Connect




Vonage




CloudTalk




Nextiva




Ringover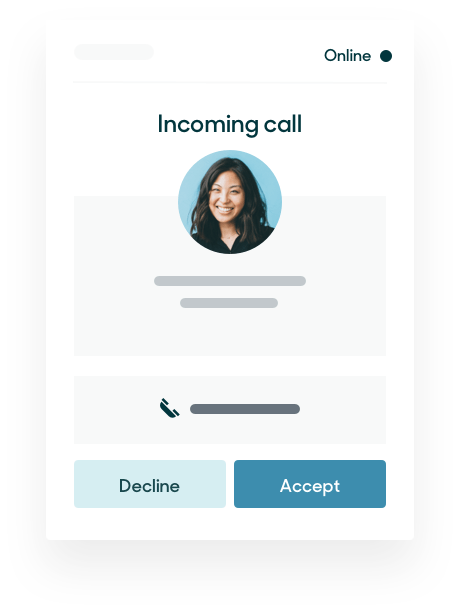 Zendesk call center software is embedded in the Zendesk ticketing system for a seamless customer experience. Our software helps expanding teams resolve issues faster while simultaneously measuring and improving phone support operations.
With Zendesk, your team will deliver a better customer experience across channels. And, with our flexible range of plans, you're sure to find one that suits your needs.
Empower your call center agents
Scrambling to take notes or manually logging conversations leaves your support team more frazzled than fruitful. A successful customer support agent must be able to fully focus on their customer. By allowing agents to focus on helping customers quickly without rifling for information, Zendesk empowers your team to be at their best more often. And since our call center software operates out of one centralized portal, your team can achieve the focus they need to start chatting—without a precarious system of post-it notes.
Measure up with call center metrics
The bonus of a centralized call center is your team's ability to track and measure every customer service interaction. When it comes to customer tickets, call recording, or queue volumes, managers can measure chat agents' performance with real-time reporting and monitoring. You'll easily understand how your phone support fits into multichannel operations with our centralized reporting—and learn exactly how your business can improve.
Cloud-based solution with easy set-up
Easy to set up and fully cloud-based, Zendesk allows teams to get up and running with full call center functionality in minutes. That means there's no need to involve IT, hire additional technicians, or manage new vendors. And since our phone support software is embedded directly in the Zendesk ticketing system, your cloud call center solution will seamlessly connect you with your customers.
Features of Zendesk
Overflow, group, and after-hours call routing
90+ telephony providers
APIs, SDKs, and integrations
Priority phone numbers
Voicemail and text messaging
Mute and call forwarding
Click-to-call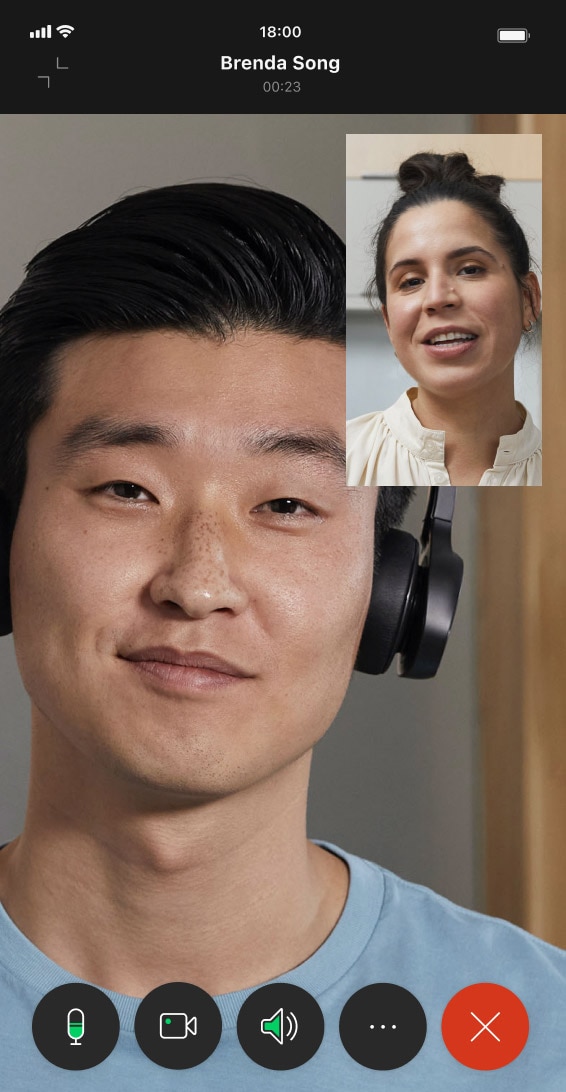 If reliability, relatively easy implementation, and robust features are among your priorities, Webex's call center software is a worthy contender to consider. As many as 1000 remote employees, on-site, or a mixture of both can seamlessly and simultaneously operate on this cloud-based solution.
Despite its enterprise-level power and sophistication, Webex is also a good option for smaller businesses that are just starting to get their call center off the ground. Also, if you're looking for internal collaboration tools like video conferencing, Webex can act as your productivity suite. Their plans include packages aimed at just call center software, like the Call plan, or both productivity and call center functionality, with the Meet + Call plan.
Pricing
Meet: $15 user/month
Call: $17 user/month
Meet + Call: $25 user/month
Features (Call plan)
Unlimited domestic and local calling
Unlimited messaging
Screen sharing
Call waiting, hold, transfer, and forwarding
Conference calls
Call recording
Visual voicemail
Interactive whiteboarding
Learn more about Zendesk for Webex.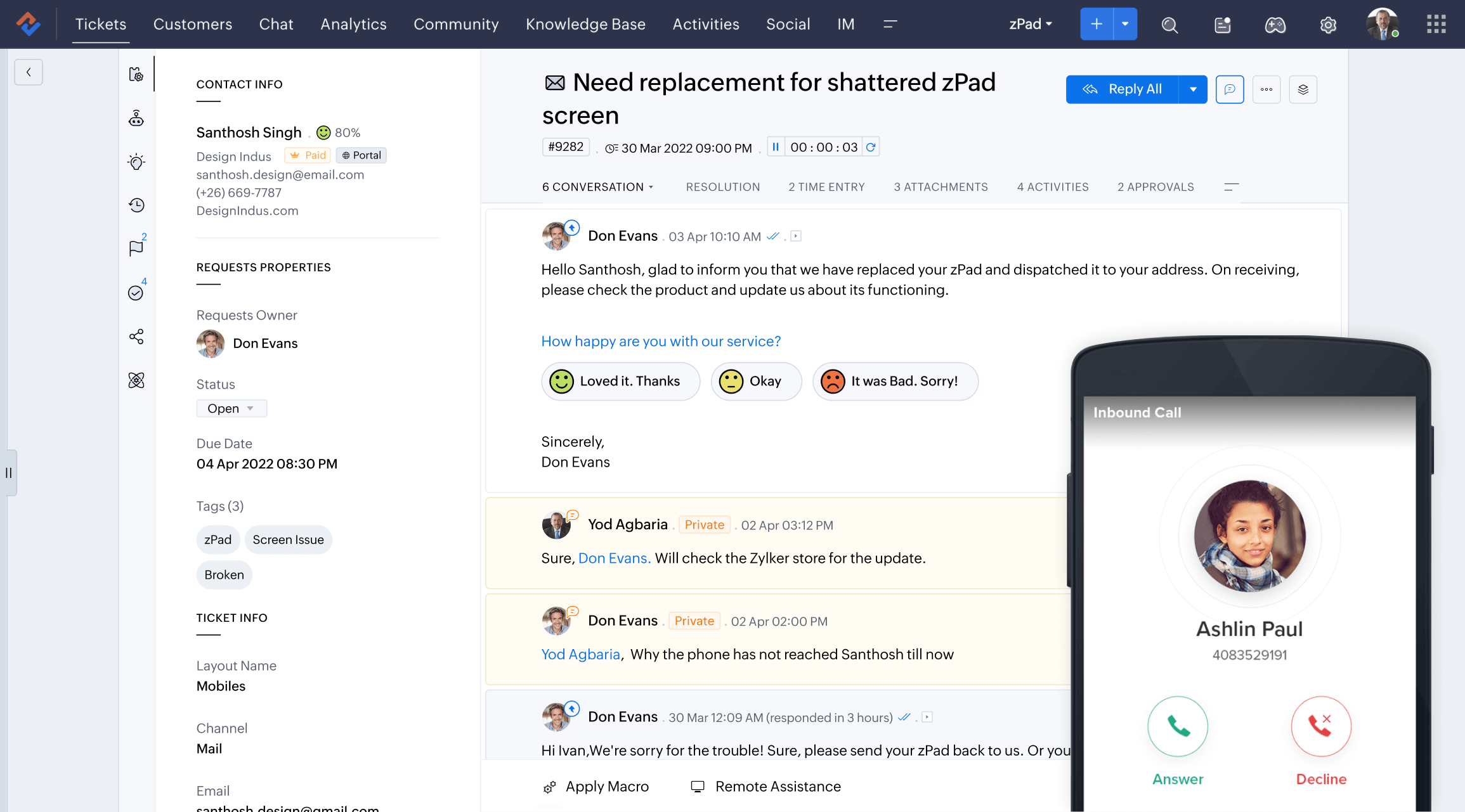 Zoho Desk is many things—a help desk, website builder, CRM, and more—but did you know it's also a solid option to consider for your call center solution? As with its other products, Zoho's call center software is cloud-based, comes with a friendly user interface, and integrates well with everything in the Zoho product ecosystem.
If you're already a Zoho Desk user, you'll find implementing, using, and maintaining the software especially easy. Plus, you'll be able to leverage the tight integrations between your other Zoho tools to provide a great customer and agent experience. Just keep in mind that you'll need either the Professional or Enterprise plan to access the call center features.
Pricing:
Standard: $20 user/month
Professional: $35 user/month
Enterprise: $50 user/month
Features (Zoho Desk Professional)
Call logging
Calls reports and dashboards
Agent availability tracking
Call-to-ticket conversion
Call transfer, recording, hold, and mute
Call queue management
Zoho Desk CRM & helpdesk integration
Like Zendesk, LiveAgent is much more than call center software. LiveAgent packages include full helpdesk capabilities such as live chat, ticket management, omnichannel support, and much more. The call center software features of LiveAgent are accessible in the All-inclusive plan, which also comes with the aforementioned helpdesk features.
If you're set on just call center software, LiveAgent may have many features you don't necessarily need. But if you still want to give it a try, you can do so for free. LiveAgent offers free trials for up to fourteen days. And if you need more time, it's worth asking—you may be able to get your trial extended to ensure you like the software.
Pricing
Ticket: $15 user/month
Ticket + Chat: $29 user/month
All-inclusive: $39 user/month
Features (All-inclusive plan)
Chat satisfaction surveys
Unlimited agent devices
Video calls
IVR
Advanced reporting
API and integrations
Call transfers and routing
Unlimited call recordings
Live chat
Whereas some call centers only take inbound calls or make outbound calls, some do both. For those hybrid call centers, TalkDesk provides the features you need to handle both kinds of calls. And it does so without the need to download new software to your local computers thanks to its fully cloud-based deployment.
TalkDesk includes useful, modern features such as an intuitive mobile app for agents to use wherever they are. And the software is exceedingly flexible—you can even use after-hours or part-time staffing features to handle calls when volume and/or staffing is low. TalkDesk plans come in four varieties and there are no free trials, but you can request a software demo.
Pricing
Essentials: $75 user/month
Elevate: $95 user/month
Elite: $125 user/month
Features (Elevate plan)
60+ out-of-the-box integrations
80+ AppConnect marketplace
API access
Virtual agent
Screen recording
Conversations mobile app
Feedback
Real-time dashboards
Self-service portal
Learn more about Zendesk for Talkdesk.
If you know what software-as-a-service is, you might be interested in GoToConnect's contact-center-as-a-service. The CCaaS concept is exactly the same as SaaS, except it is specific to call center software. Just like with SaaS GoToConnect features multiple plans, all fully cloud-based, that offer a wide range of call center functionality.
GoToConnect's customizable contact center software is capable of serving the needs of inbound, outbound, and blended call centers. Plus, you can add a VoIP service to set up an internal phone system for your business if you decide you like the contact center software.
Of course, it also doesn't hurt that GoToConnect is well-known for its reliability and relatively long history of industry expertise.
Pricing
Basic: $24 user/month
Standard: $29 user/month
Premium: $39 user/month
Features (Standard plan)
Voicemail to email
Audio conferencing
Existing number porting
Unlimited extensions
Smart call routing
Call forwarding, ring groups, and call queues
Learn more about Zendesk for GoToConnect.
By delivering customer context and robust call center features into one intuitive interface, NICE CXone is built to empower your agents to provide better, more efficient customer experiences. While it could work for smaller businesses, NICE CXone is a bonafide enterprise solution. Larger, complex service organizations will find everything they need to simplify their call center ops.
NICE CXone also includes a strong set of features for managers to raise the customer service standards while controlling costs. These features include quality management and workforce planning tools that help facilitate ongoing improvements in resource planning and service delivery.
Pricing not available
Features
Automation workflows
Ticket routing
Native integrations
Knowledge base
API
Workforce management
Customer surveys
Live chat software
Tracking and reporting
Self-service portal
Learn more about NICE inContact CXone Agent for Zendesk.
Bitrix24 is a call center software not unlike Zoho Desk, though admittedly it's far less well-known in the space. In addition to call center features that support inbound, outbound, external, and internal calling needs, Bitrix also provides project management tools, a website builder, and a standalone CRM.
Another big plus is Bitrix's free plan. While its feature set is limited, the free plan can give you a good feel of what to expect from the Bitrix interface. From there, you can make a more educated decision about whether Bitrix24's flexible contact center software is a fit for your business.
Pricing
Basic: $49 per month for 5 users
Standard: $99 per month for 50 users
Professional:" $199 per month for unlimited users
Features (Standard plan)
Business hours setting
Call routing, transfer, and forwarding
HD video calls
Call back widget
IVR
Call transcription
Call recording playback speed
Automatic dialing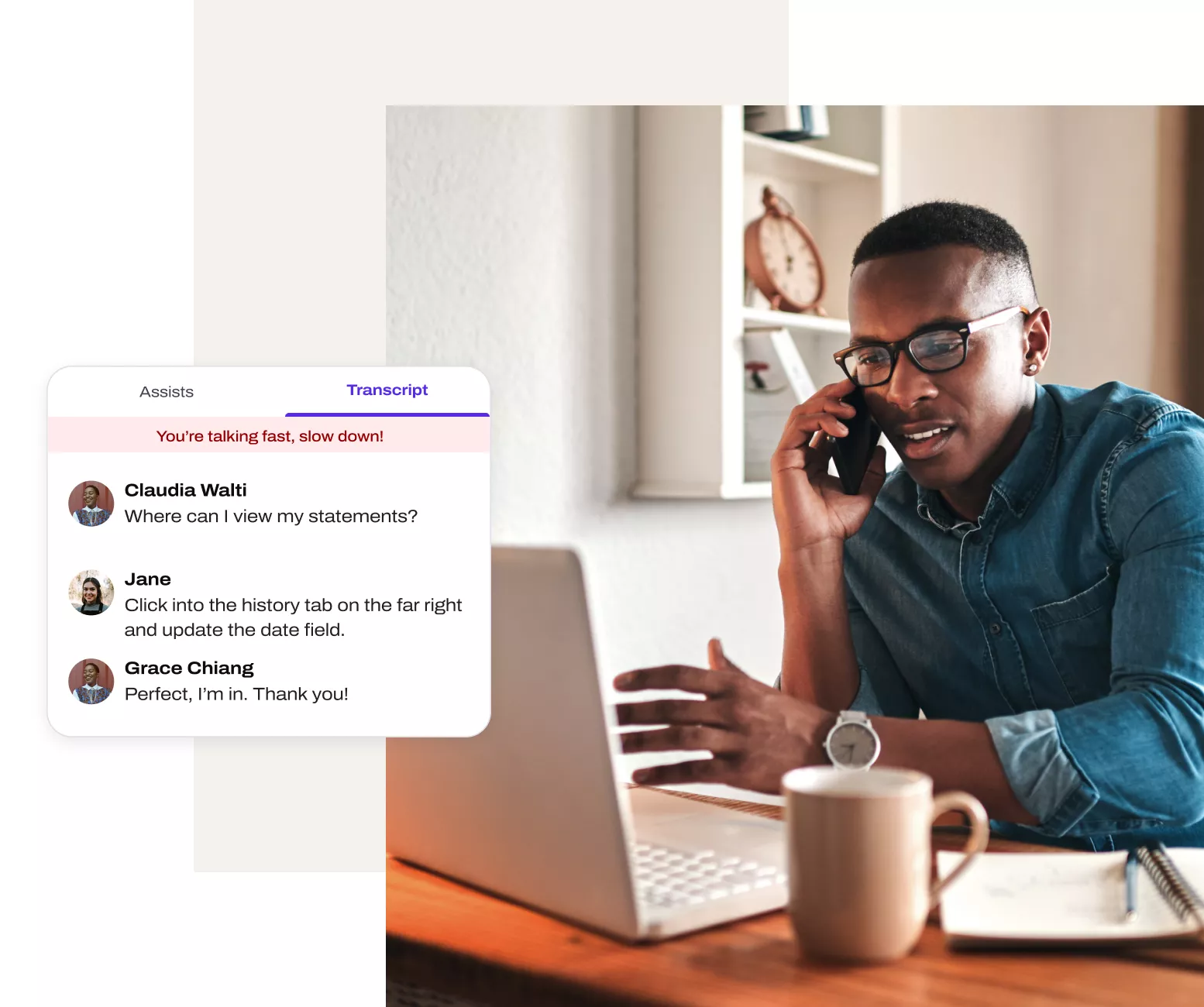 For a sleek and truly modern call center solution with a robust feature set designed for both inbound and outbound calling, Dialpad doesn't disappoint. Included among its many unique and innovative features are call sentiment analysis, real-time text transcription, and even a built-in AI that can automatically deliver question-specific call scripts for agents. And its mobile app allows you to stay connected from anywhere on any device.
Dialpad also has a unique pricing structure for its software, of which there are two versions, Enterprise and Pro. To use Pro, you need to purchase at least three licenses. For Enterprise, you must purchase at least 100 licenses.
Pricing
Standard: $20 per user/month
Pro: $30 per user/month
Enterprise: Pricing not available
Features (Pro plan)
Toll-free number support
In-Queue callback
Analytics and reporting
Call history
Manager alerts
Real-time transcription
Sentiment analysis
Smart dialer
Learn more about Zendesk for Dialpad.
Usage fees for call center software can easily pile up, especially if you're on the hook for long-distance charges and your customers are highly dispersed. But Five9 helps you keep operating costs manageable while powering a top-tier calling experience for customers and agents alike. Their packages include no-fee long-distance calling and can be set up on your existing equipment, depending on your needs.
In addition to their powerful call center software, Five9 offers a wide range of telephony solutions, including business VOIP. Put simply, any phone-related needs you have can be covered by one or more of Five9's packages.
Pricing not available
Features
Omnichannel routing
Predictive dialing
Intelligent virtual assistant
Real-time and historical dashboards
Workflow automation
Outbound dialer
Call recording
Web call back
Learn more about Zendesk for Five9.
Built for support and sales teams, CallHippo is a smart call center solution that simplifies both inbound and outbound calling. This cloud-based telephony solution comes in four varieties for startups, small teams, SMBs, and enterprise businesses. However, regardless of your team size, you may need a higher-tier plan if you want the most sophisticated features.
In addition to their packages, CallHippo offers paid add-ons for capabilities like custom caller ID, call transcription, voicemail transcription, and more. To get an idea of the many combinations of CallHippo packages and add-ons you can buy, check out their pricing page.
Pricing
Bronze: $16 per user/month
Silver: $24 per user/month
Platinum: $40 per user/month
Enterprise: $48 per user/month
Features (Platinum plan)
Skills-based call routing
Free call recording
Call tagging
Call queuing
Power dialer
Multi-level IVR
Call script
Call barging
If you're a DIYer with the time and resources to hire developers, or you already have a staff of engineers well-versed in APIs, Twilio will be an intriguing option for you. Rather than pre-packaged software, Twilio Flex provides a Voice SDK and open API which your developers can use to create a call center solution fully customized to your business's needs, desires, hopes, and dreams.
Everything from custom building your own web-based call center app to call transcription and queue management is on the table with Twilio. Put simply, all the features you'd want in an enterprise-level call center solution can be built with Twilio. Twilio's pricing is also flexible—you can either pay a flat rate or a usage-based fee. Details below.
Pricing:
Twilio Flex (per-hour pricing): $1 per active user hour
Twilio Flex (flat rate): $150 per user per month
Features of Twilio
Call tracking
Embedded calling
Interactive voice response (IVR)
Masked calling
API and SDKs
Alerts and notifications
Call transcription
Voice recognition
Omnichannel support
Reports and dashboards
Learn more about Zendesk for Twilio Flex.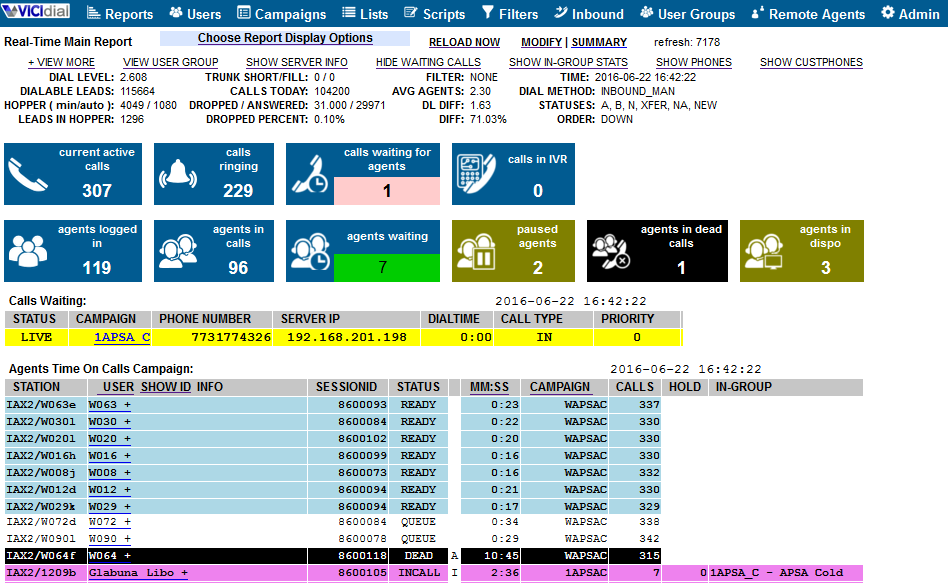 If you're looking for open-source, hosted contact center software, VICIDial is an option to consider. Since the software is fully open-source, you don't pay an upfront cost to use, modify, or distribute it. However, in practice, you can't get up and running with VICIDial without expending resources. Because VICIDial is open source, you'll need a specialized developer to help you implement it.
If you choose to, you can pay for hosting services offered by VICIDial. With VICIDial hosting, your software and data will be stored on a dedicated VICIDial server. Once configured, VICIDial provides all the call center capabilities you'd expect for outbound and inbound calling as well as several bonuses, like email and website chat.
Pricing: No upfront cost
Features
Open-source software
Inbound and outbound calling
Email and website chat
Skills-based routing
Dedicated hosting
Queue prioritization
Aircall is a cloud-based call center solution that bills itself as a productivity-enhancing tool for support and sales teams. Its greatest strengths include an easy setup on your own hardware (unless you decide to upgrade), plenty of intuitive integrations, real-time monitoring, and project management features.
If you decide, as you should, to integrate Aircall with your helpdesk and/or CRM, you can access all sorts of useful capabilities in your CRM or helpdesk like automation and call activity monitoring. On top of all that, Aircall's plans all include unlimited inbound and outbound calling within Canada and the continental United States.
Pricing:
Essentials: $30 user/month
Professional: $50 user/month
Features of Aircall Professional
API and webhooks
Voicemail by email
Call analytics
Post-call automations
Click-to-dial
Call tagging
Call monitoring and whispering
CRM and helpdesk integrations
Intelligent dialing
Learn more about Zendesk for Aircall.
With 3CX, call center agents and their managers can work from anywhere, conducting virtual meetings with web conferencing and serving customers on the phone, via live chat, and more. Plus, if you want flexibility in how you deploy your contact center software, 3CX provides it with on-premise, hosted, and cloud-based options.
Along with deployment flexibility, 3CX provides enterprise-level functionality with features like call pop-ups, click-to-call, call journals, and much more. And if you're already using Zendesk for ticket management and you like 3CX contact center software, you can easily integrate 3CX with Zendesk.
Pricing (license for five users)
Standard: $0 per year
Pro: $145 per year
Enterprise: $180 per year
Features (Pro plan)
Contact Synchronization
Call Pop-ups
Call Journals
Zendesk and other popular app integrations
Click to Call
3CX Browser Extension
For enterprise-grade performance, MiCloud Connect by Mitel is a great choice. This cloud-based contact center software includes messaging, screen sharing, conferencing and much more. Plus, Mitel's intuitive user interface, omnichannel support, and seamless agent experience make it an ideal solution for improving agent efficiency.
Yet it's not just the day-to-day productivity improvements you can expect. Mitel also throws in real-time reporting, which you can pull to help optimize your workflows and resource planning for maximum call center productivity.
Pricing not available
Features (Premier plan)
Real-time KPIs
Inbound and outbound call queues
Skills-based routing
Priority routing
Agent status controls
ACD call pick-up
Learn more about Zendesk for Mitel.
If buying your contact center software and hardware from the same company is a priority for you, Vonage is worth a look. Their call center is fully customizable with intuitive add-ons and robust out-of-the-box functionality. Vonage integrates with popular CRMs such as HubSpot and Zendesk but its Salesforce and Microsoft Teams integrations are particularly well-implemented.
Vonage's features are what you'd expect from an industry leader and include core functionality such as call monitoring, call tagging, and native messaging. Also, as a full-service business telephony provider, Vonage can meet your VOIP needs, making it a true one-stop solution.
Pricing
Mobile: $19.99 per month, per line
Premium: $29.99 per month, per line
Advanced: $39.99 per month, per line
Features (Advanced plan)
Call transfer, hold, and call forwarding
Mobile and desktop apps
Call waiting
Visual voicemail
Paging groups
Call logging
On-demand call recording
Call queue management
Learn more about Zendesk for Vonage.
CloudTalk Voice is an intuitive cloud-based outbound and inbound call center solution that SMBs gave a top rating in 2020. In addition to seamless phone connections within your business and between your business and customer, CloudTalk helps you control call center operating costs, monitor call quality, and much more.
A few of CloudTalk's most popular and powerful features include their easy-to-use integrations, call recording, intelligent dialing, and two-way sync. CloudTalk has three packages that range in price from $25 to $50 per month. But to access outbound calling features, you'll need a custom plan, which is billed at a flat rate.
Pricing
Starter: $30 user/month
Essential: $40 user/month
Expert: $60 user/month
Features (Essential plan)
SMS capabilities
Advanced analytics
Workflow automation
Skill-based routing
Unlimited inbound and intracompany calls
Mobile app
Open API
Real-time dashboard
International numbers for 140+ countries
Learn more about Zendesk for CloudTalk.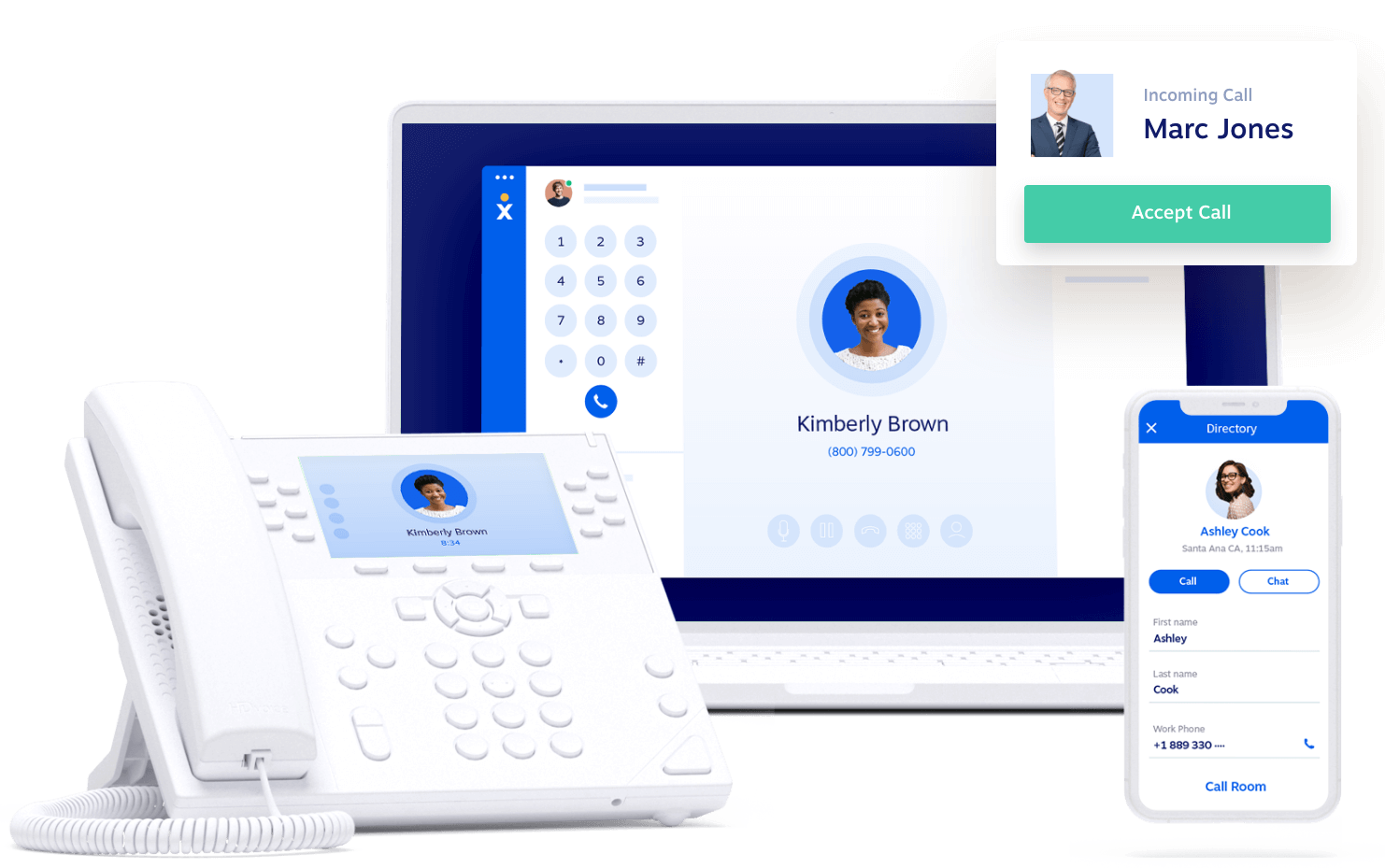 Nextiva's cloud-based call center software is built to fit the needs of any kind of business. Tools like its Call Flow Builder—a no-code, visual editor for designing call routing workflows—make Nextiva powerful yet easy enough to use for non-developers. And if you happen to like Nextiva's call center software, they offer a variety of phone-related services that you can try, such as VOIP.
Plus, if you're looking to equip your team with hardware along with your new call center software, Nextiva is an excellent way to do it. Along with their software, Nextiva offers VOIP-enabled business phones for competitive prices. If you're interested, you can try either of Nextiva's two calling plans with a free trial.
Pricing
Professional: $20.95 user/month
Enterprise: $26.95 user/month
Features (Enterprise plan)
Unlimited calling in the US/CA
Call recording
Real-time analytics
Unlimited business SMS
Integrations with popular tools
Flexible, modern, and intuitive, Ringover's call center software is available as a custom plan or in one of their two packages: Smart and Power. Whichever package or plan you choose, though, Ringover will treat you to software that effectively integrates group messaging, video conferencing, and an advanced phone system with business texting.
Key benefits of Ringover include comprehensive reporting simplified into dashboards, affordable international calling for 110 countries, and powerful call management features. Not to mention, Ringover seamlessly integrates with all of the most powerful CRMs and helpdesks.
Pricing
Smart: $24 per user/month
Power: $49 per user/month
Features (Power plan)
Unlimited calls to 110 countries
Custom greetings
Instant setup
Live call monitoring
Popular integrations
Advanced analytics and call reporting

Learn more about Zendesk for Ringover.
How to pick the best contact center software for your team?
The best way to pick the best contact center software for your team is to ask yourself the following three questions:
How will the software fit with my current and future teams?
You wouldn't order an extra-large shirt when a medium fits better just because the extra-large shirt has more material, right? The same idea goes for contact center software. The best option isn't the one with the most features, but the one with the features that fit the best with your team.
At the same time, it's important to realize that the team you have today will change. Call volumes may go up, new products might require new kinds of service, your team may expand. All these things will change what software is the ideal option for your team. So it's best to balance your future needs with your current state—that way you don't end up outgrowing your software.
What are the expected cost savings and service quality improvements?
The cost of your software is a key consideration, but don't make the mistake of thinking only in terms of expense. When implemented well, contact center software can save you money and improve service well in excess of its cost.
The best way to estimate the return on investment you might get from a given contact center solution is to try it. Or if your vendor doesn't offer a sufficiently long free trial, you can opt for a monthly plan so you aren't committed to a full year. That way, you can get the full picture of contact center software's financial impact on your business.
Can you get the rest of your organization on board?
Imagining all the tasks your software can accomplish is fun. Trying to get your colleagues, managers, and executives to buy into your imagination is not so fun. That's why it's important to find software that's going to make it easier for you to secure buy-in with every level of your team, from call center agents and managers to executive VPs and the C-suite. To that end, seek out software that you can show the value of quickly. The sooner your colleagues see material value from the software, the sooner they'll buy in.
One of the most important aspects of successfully implementing software of any kind is securing buy-in with your team and executives. That's why it's critical to choose outbound call center software that has a short length of time-to-value (TTV).
Frequently asked questions
How can you transform customer experience with a call center system?
You can transform customer experience with a call center system by:
Offering 24/7 self-service via voice or touch-tone activated IVR.
Creating more bandwidth for your existing agents with automated call routing.
Making it easier for customers and agents to switch between service channels.
Reporting on key performance indicators to optimize training and resource allocation.
Consolidating ticket and customer relationship management with help desk software and CRM integrations.
How much does a call centre phone system cost?
The direct cost of your call center phone system depends on the number of phone numbers, users, features, and the software delivery model. Cloud-based call center phone systems are the most affordable, with plans ranging from $20 to $150 per month per user with one-time development costs of a few thousand and usage fees of approximately $0.10 per minute and up.
What if you don't like the call center software after you buy it?
If you decide you don't like the call center software you purchased, your recourse depends on the terms of your purchase. If you bought an annual plan, you may have no other option but to serve out your term. Though it's certainly worth asking your vendor if you can cancel your contract and get a full or partial refund.
Ready to try call center software?
We know that connecting with your customers is vital to your business' success. With Zendesk, you can set your growing support team up for success to resolve issues faster, review current customer support metrics, and improve phone support operations across the board. If you're ready to deliver better customer experiences across every channel, try Zendesk call center software today.
Before you go
Support teams invest in call center software to keep their teams together so they can grow strong. See why it's worth it now.